The best thing about Nacpan beach is that there is absolutely nothing else to do except for swimming and relaxing. It's an amazing long beach with powder white sand and it's glittering turquoise sea is inviting for a long swim! Most of the people go there only for a day-trip but my suggestion is to stay there overnight especially if you're looking for few days of total relaxation.
How to get to Nacpan beach?
From El Nido village: You can get there by minivan. You can prebook your ticket in a tour shop if you want to guarantee your seat. If you are visiting Nacpan only on a day trip you can take a scooter there. Or you can of course rent the scooter for multiple days if you wish to stay in Nacpan beach a bit longer. Don't try to go to Nacpan with a tuktuk. In theory you can do it but the road leading to Nacpan is so horrible that it won't be a pleasant ride in any way.
From Puerto Princesa: I believe you can buy a ticket from Puerto Princesa to Nacpan but you'll need to change the van in El Nido village most likely. This trip may take a while because it's 5-6 hours from Puerto Princesa to El Nido and then another hour from El Nido to Nacpan. Read more of how to get from Puerto Princesa to El Nido in my other article!
From El Nido airport: Haven't tried it but I believe you can get a ride to Nacpan from the airport directly. It may make sense to first ride to El Nido village (4 kilometers) and then take a proper van from there.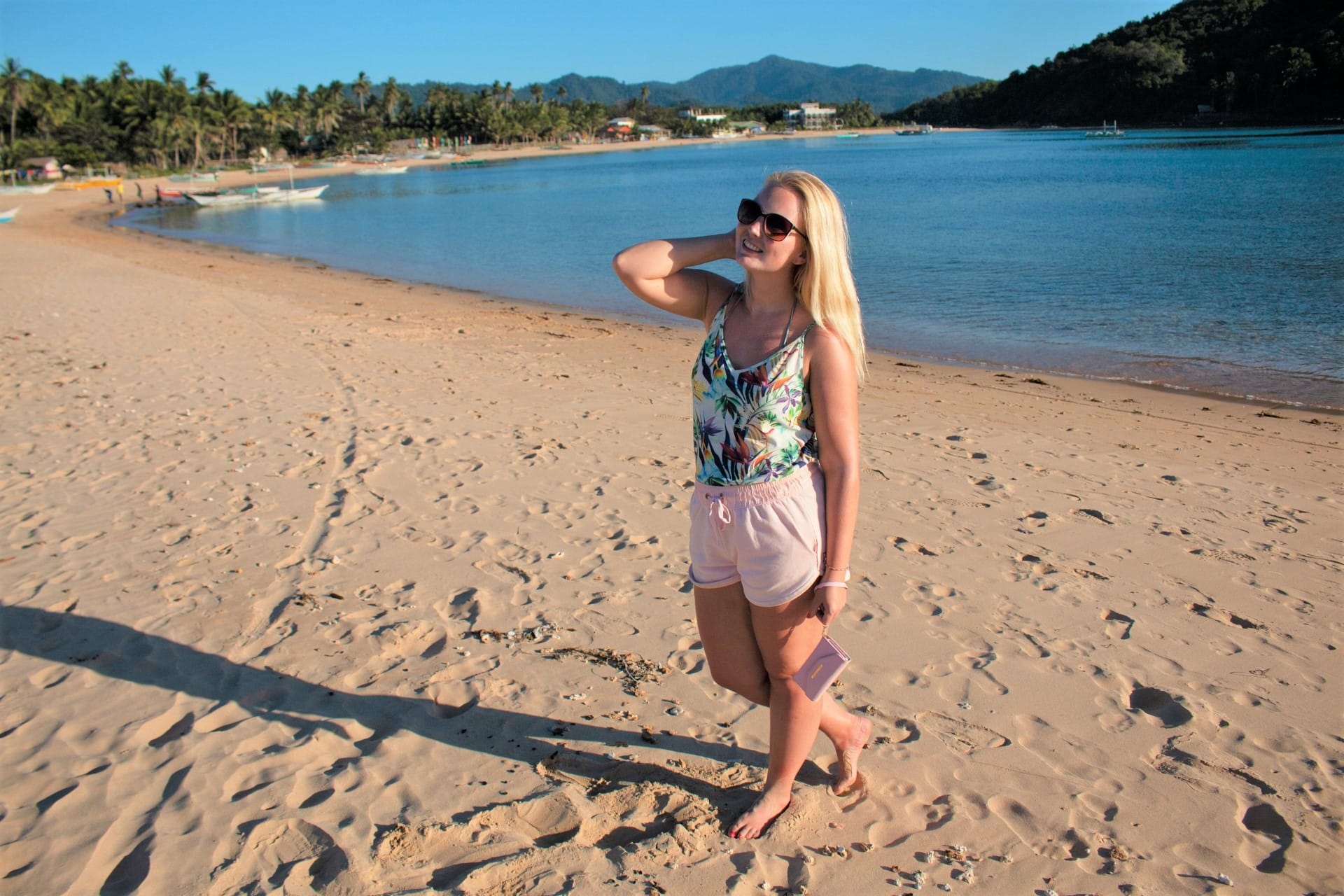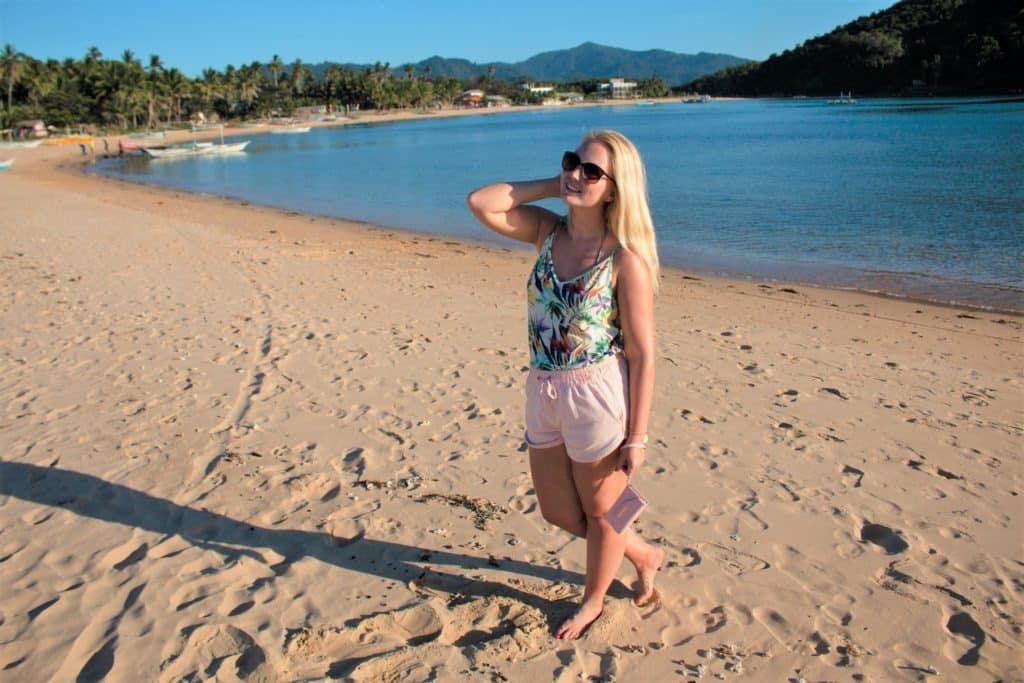 Dining with sandy toes in Nacpan
There are only few restaurants on Nacpan beach and some are only open during the daytime. Let's start with the ones that will be open after 6 pm. Seaside Hue Resort has a restaurant that will be open as well as Nacpan Beach Sunmai Sunset Restaurant and you can get something small to eat from Mad Monkey. In the daytime there's also Em's Grill and Fruitshake Cafe and couple of other eateries. What is common for all of the restaurants is that you will most likely have some sand under your toes while dining since all the restaurant are on the beach.
On my first evening I had dinner at Seaside Hue Resort and I happened to crash some sort of a reunion party. There were some ex-coworkers who had worked together in the Philippines few years back and one of them was the person who had basically built all the things Nacpan beach has nowadays including Seaside Hue Resort.
He explained to me that the customer path at Nacpan beach goes so that they sleep in Seaside Hue Resort, then they go to Nacpan Beach Sunmai Sunset Restaurant to eat and then to Mad Monkey to party. I asked about the road whether they will build a proper one in the near future but the man said that" hope not and not with my money". They want to keep the beach pristine and they don't want too many tourists. I'm kinda doing wrong here encouraging you all to visit it, hehe. 😉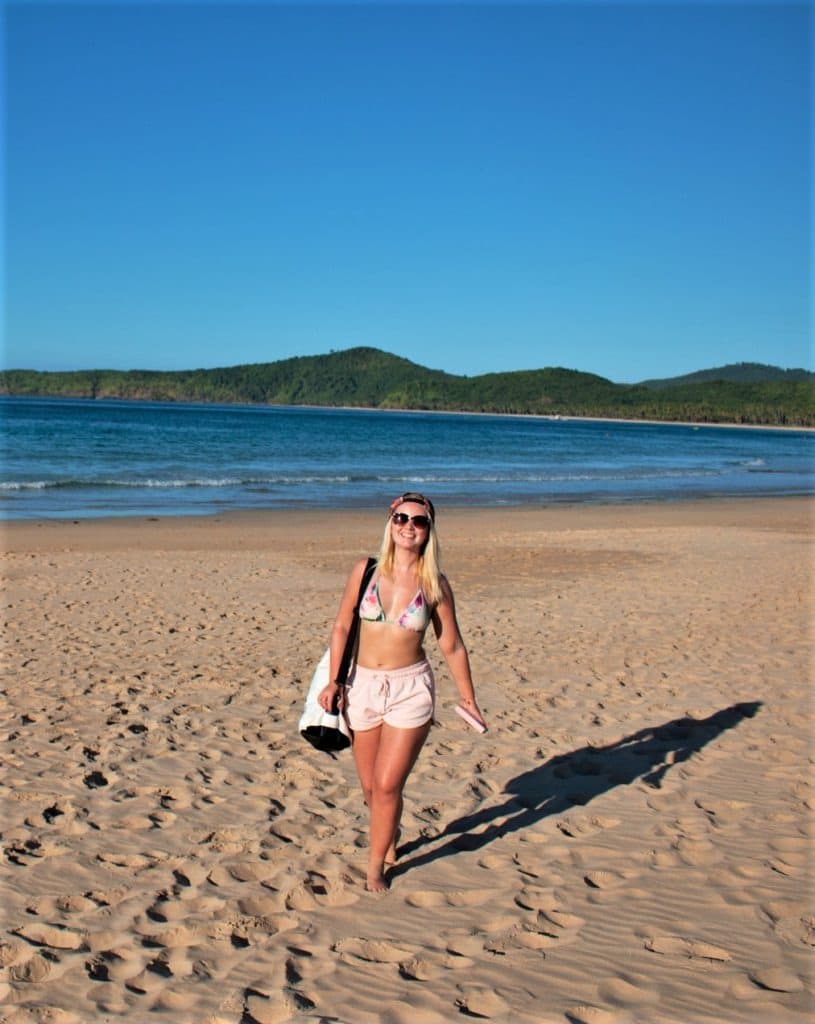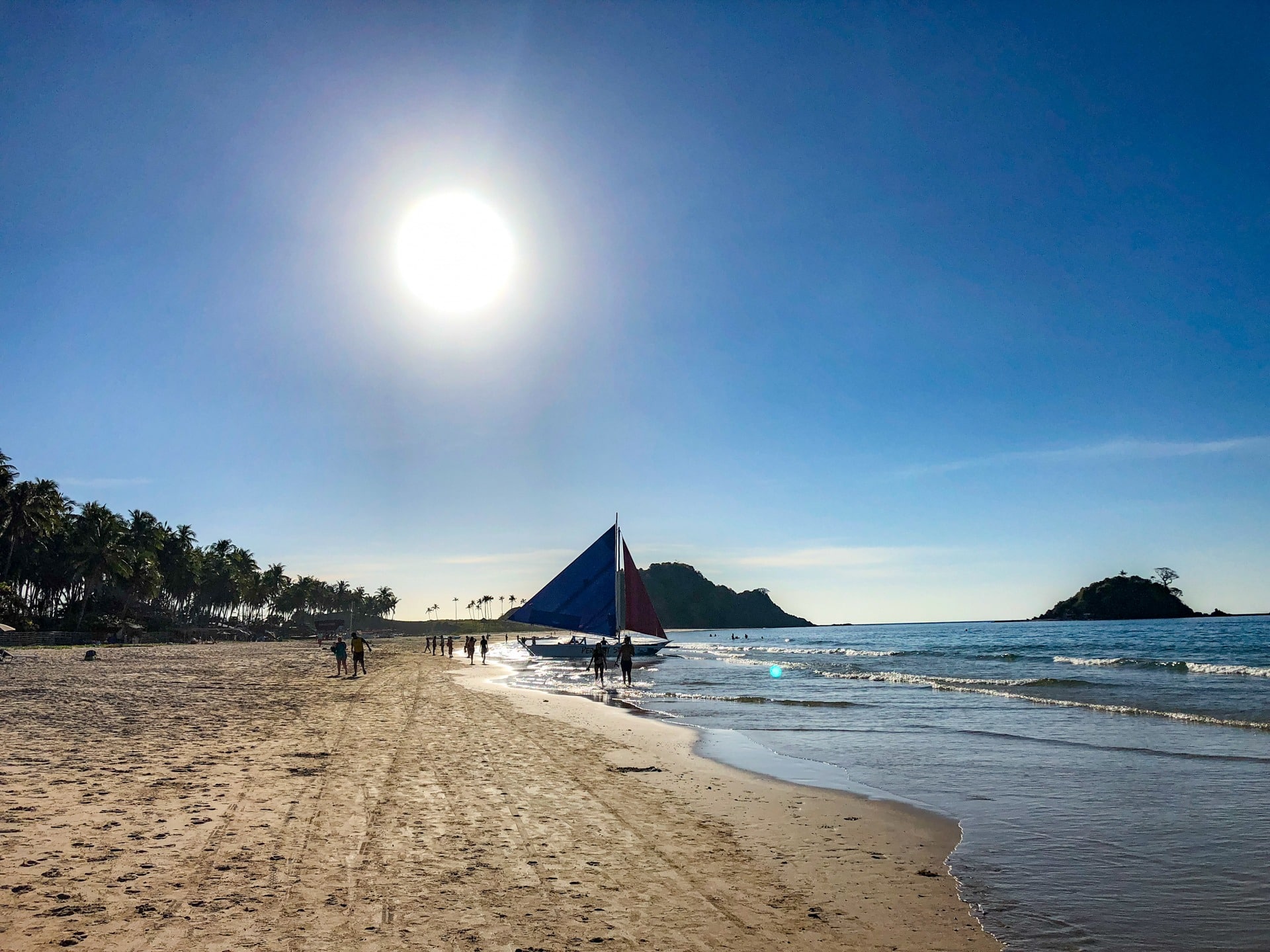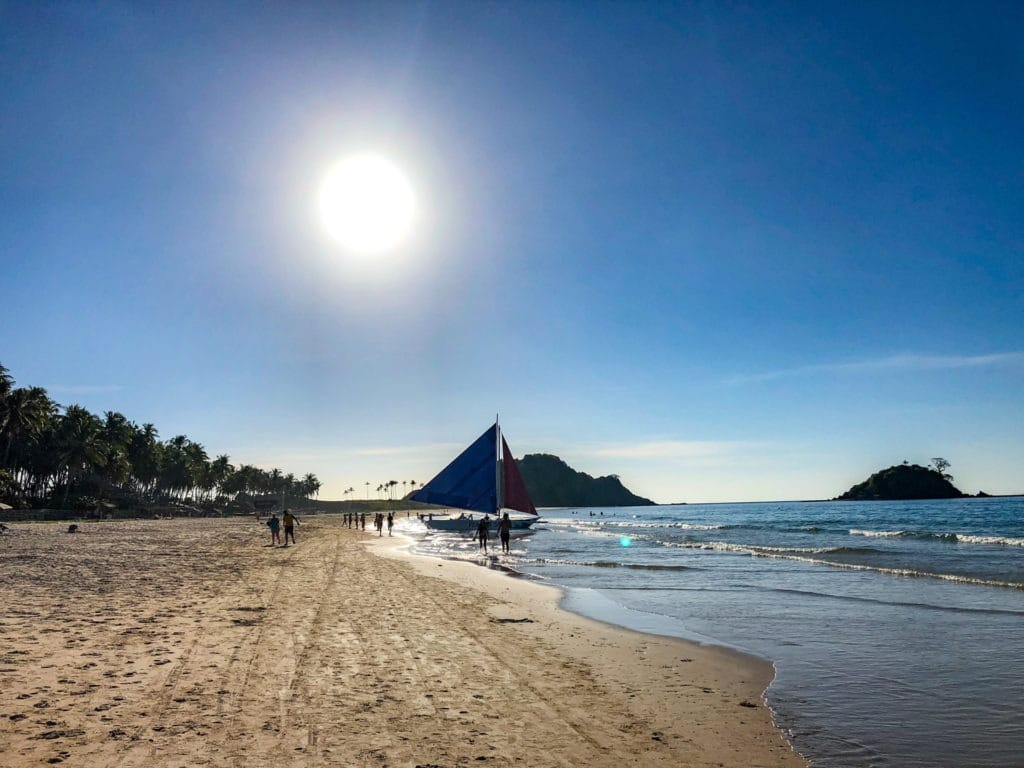 Where to stay overnight
In Nacpan beach there aren't any luxury hotels or resorts. There are only a handful of  accommodation providers and most of them offer bungalows or guest house type of accommodation. There are also few glamping possibilities and hostels.
I recommend staying at Seaside Hue Resort which is actually a hostel but it also has private double rooms with shower. It's a well kept property and the rooms are really clean and lovely.  The rooms are equipped with air conditioning, a double bed and the shower actually has good pressure in it. The reception staff is phenomenal and the hotel has its own chairs and fatboys on the beach.
Seaside Hue Resort also has one of the few restaurants that there are on Nacpan beach. It takes forever for them to cook the food so I guess the one cook that they have makes them from the scratch. Luckily there's no hurry in Nacpan beach.
What's important to know about the accommodation in Nacpan is that you need to reserve it well beforehand! This is not a place where you can arrive with your backpack and get a room. Most of the accommodation is fully booked especially in the high season.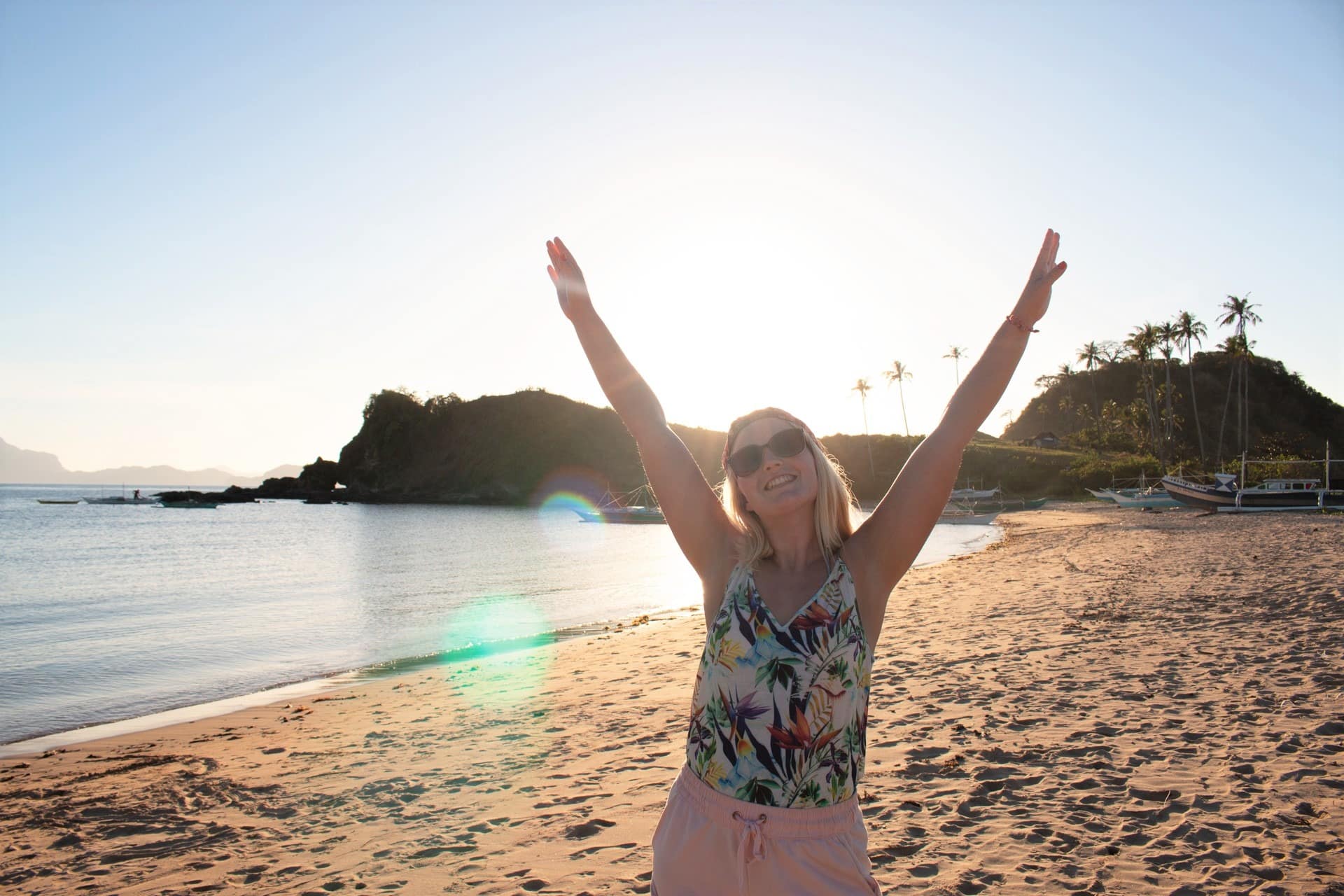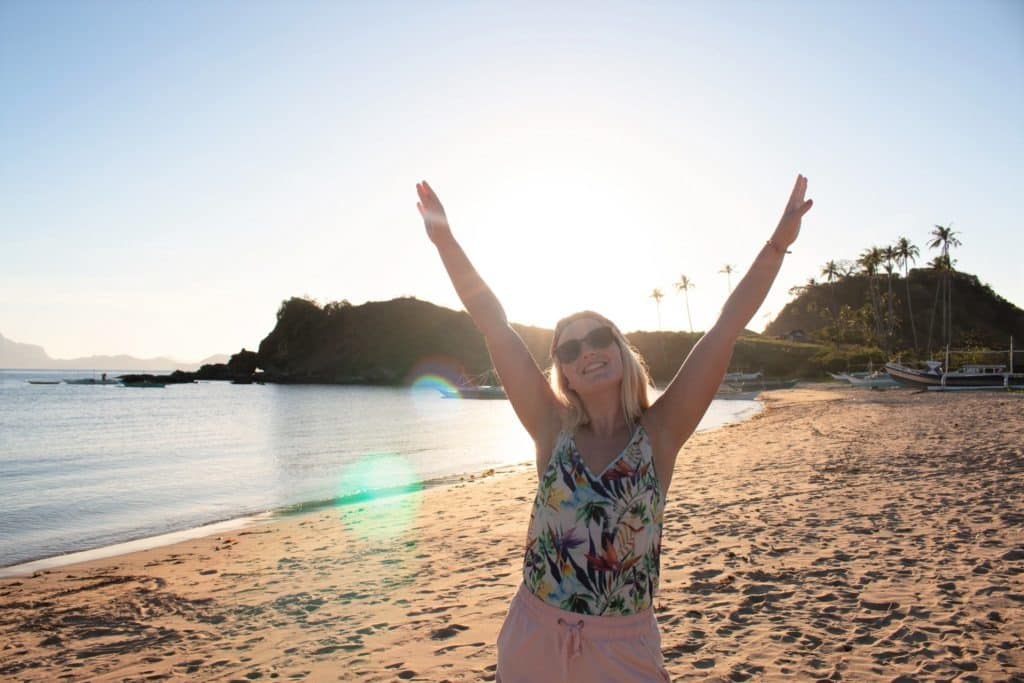 The best of Nacpan
The best of Nacpan beach is the beach itself and very chilled atmosphere. There are actually two beaches that are connected: Nacpan beach and Calitang beach and they are called as Twin beach. Nacpan beach is called as the Boracay of Palawan due to it's long beach and powder white sand. The sand is very fine and the sea is perfect for swimming since it's not too rough and the seafloor isn't steep.
On Nacpan beach there isn't much to do other than swimming, reading a book and relaxing. You can enjoy slow beach walks and the sunset is amazing there. I took a massage there which was really good even though it was more expensive there than in El Nido.
Don't expect seeing a wifi in Nacpan Beach since there isn't one. That's one of the greatest things that you actually cannot spend time on your phone but you have to enjoy the surroundings and peace.
Nacpan beach is worth visiting overnight because the best moments on the beach are morning until 12 am when the beach is completely empty and after 4 pm when the day-trippers are heading home.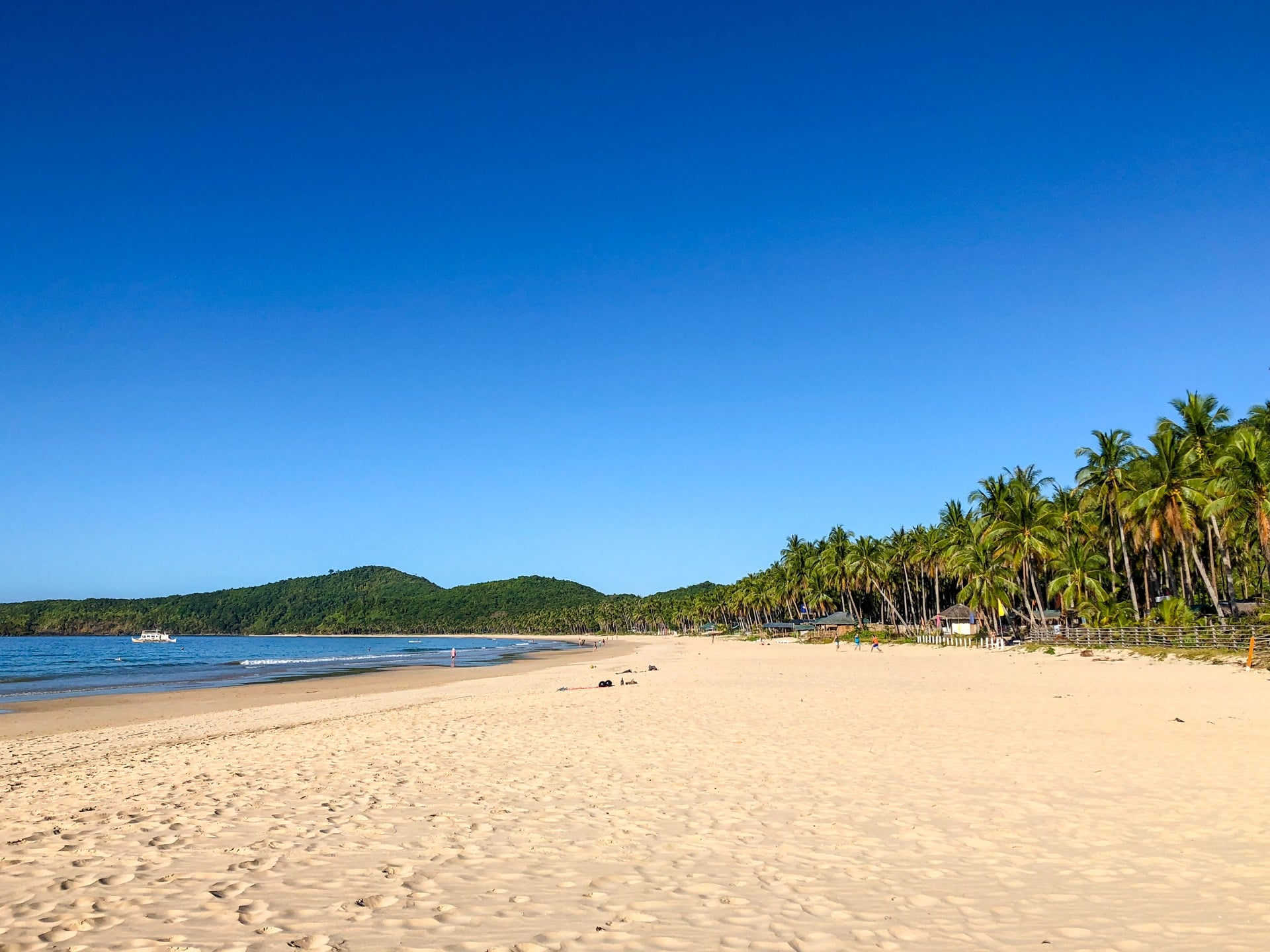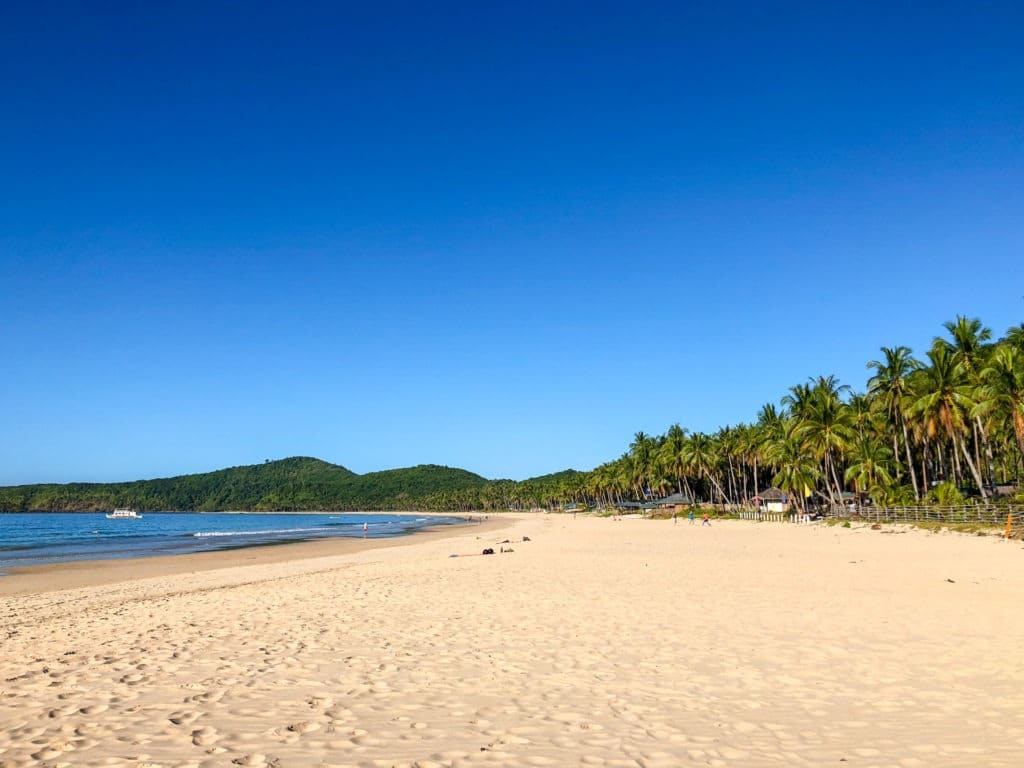 To my mind Nacpan beach is the best kept secret of El Nido area. Most of the blogs I read before traveling said that Nacpan is worth visiting but not worth staying overnight because there's nothing there. The locals in El Nido were also amazed when I told them I'm going to spend few nights in Nacpan beach.
Go and book your overnight stay in Nacpan beach for ultimate relaxation!
Check out my guide to the entire El Nido area!