Glittering turquoise sea and clear visibility all the way to the seafloor, white powder sand under the toes and palm trees swaying in the wind: that is El Nido. It also has a landscape full of rugged limestone rocks and beautiful green islands.
It's an amazing feeling when you can tick off a country from the top of your bucket list and put it to your "I will return here"-list. I'm a die hard Thailand fan but I have to say that the Philippines is good competitor of being my favourite country.
I didn't have to think twice when adding El Nido to my travel plans. The landscape is very similar to Krabi area which I absolutely adore, and the marine life is even better than in Thailand. So, I guess no wonder I fell in love with El Nido straight away.
Here's my guide for you to El Nido!
Where to stay in El Nido
There are a lot of different types of accommodation in El Nido from hostels to five-star resorts. To be honest I think the pricing of the accommodation is completely out of hand in the Philippines. A 3-star hotel can ask for a 100 euros per night easily and it may not even be a good 3-star hotel. The five-star hotels consider themselves as ultimate luxury so they can be up to thousands per night. This is mainly due to the early stages of tourism and I believe that in the future the competition will rationalize the prices.
I stayed at an affordable family run accommodation in El Nido village. I had no luxuries like hot water in the shower so there isn't much to recommend about it, haha. What I do recommend is staying in El Nido village especially if you want to do the day tours. It's easier and in the evening you will have a lot of different dining options. If you prefer staying at a beach then Las Cabanas and Marimegmeg beach could be your choice. You won't have many dining options nearby but you can always take a tricycle to the village.
I highly recommend taking at least 2 nights of your El Nido trip to stay at Nacpan beach. It is an amazing beach about 20 kilometers north from El Nido village. It's the place to chill and relax after touring around El Nido's islands. There I recommend staying at Seaside Hue Resort!
Traveling to El Nido
You can get to El Nido with a direct flight but they are super small planes and you have to be prepared to pay for it. It's definitely the easiest way to get to El Nido! The other option is to fly to Puerto Princesa and take either a bus or a van from there to El Nido. I would say that if you plan to go from the Puerto Princesa airport to El Nido, the van is the easiest because that will leave directly from the airport!
Read more about how to get to El Nido on my blog!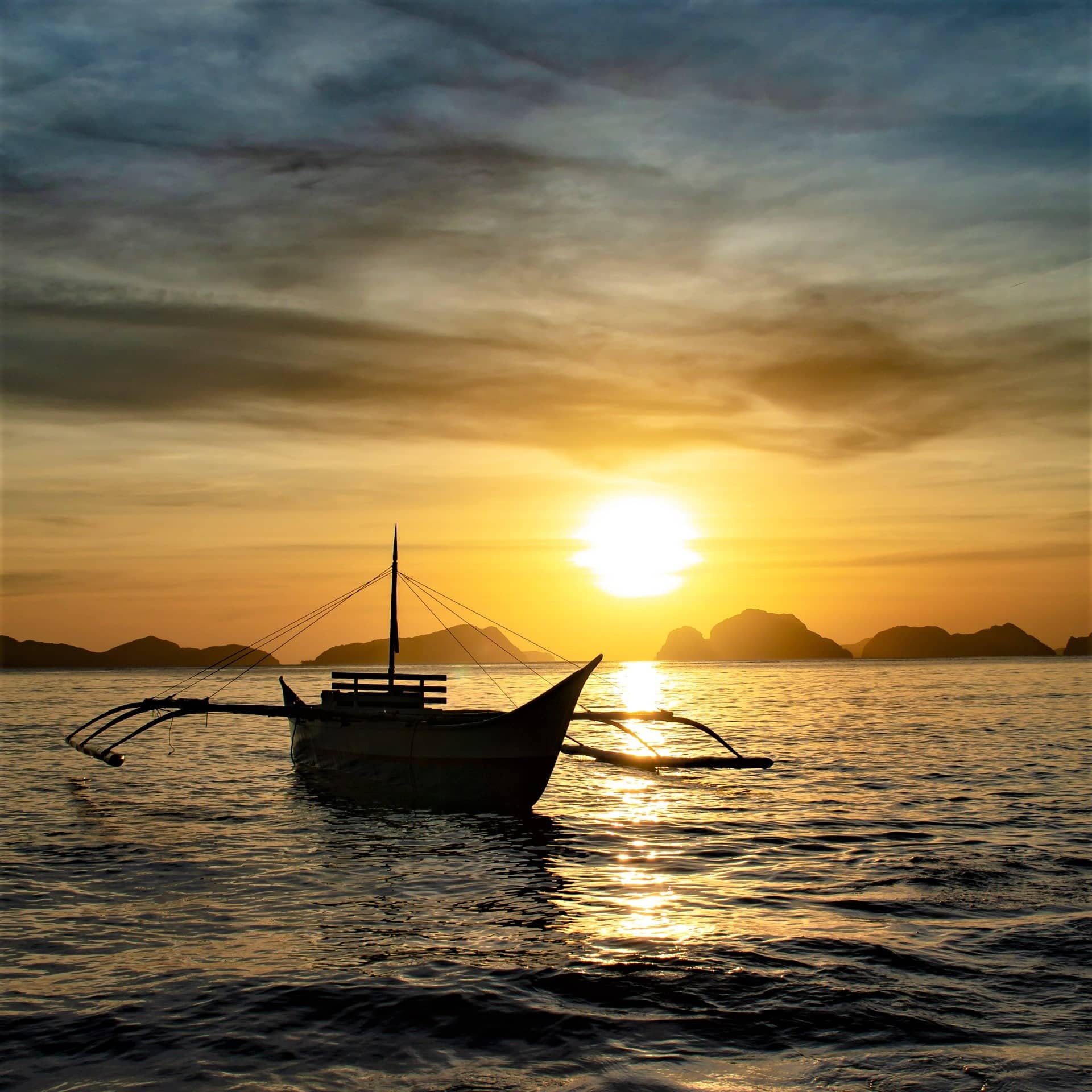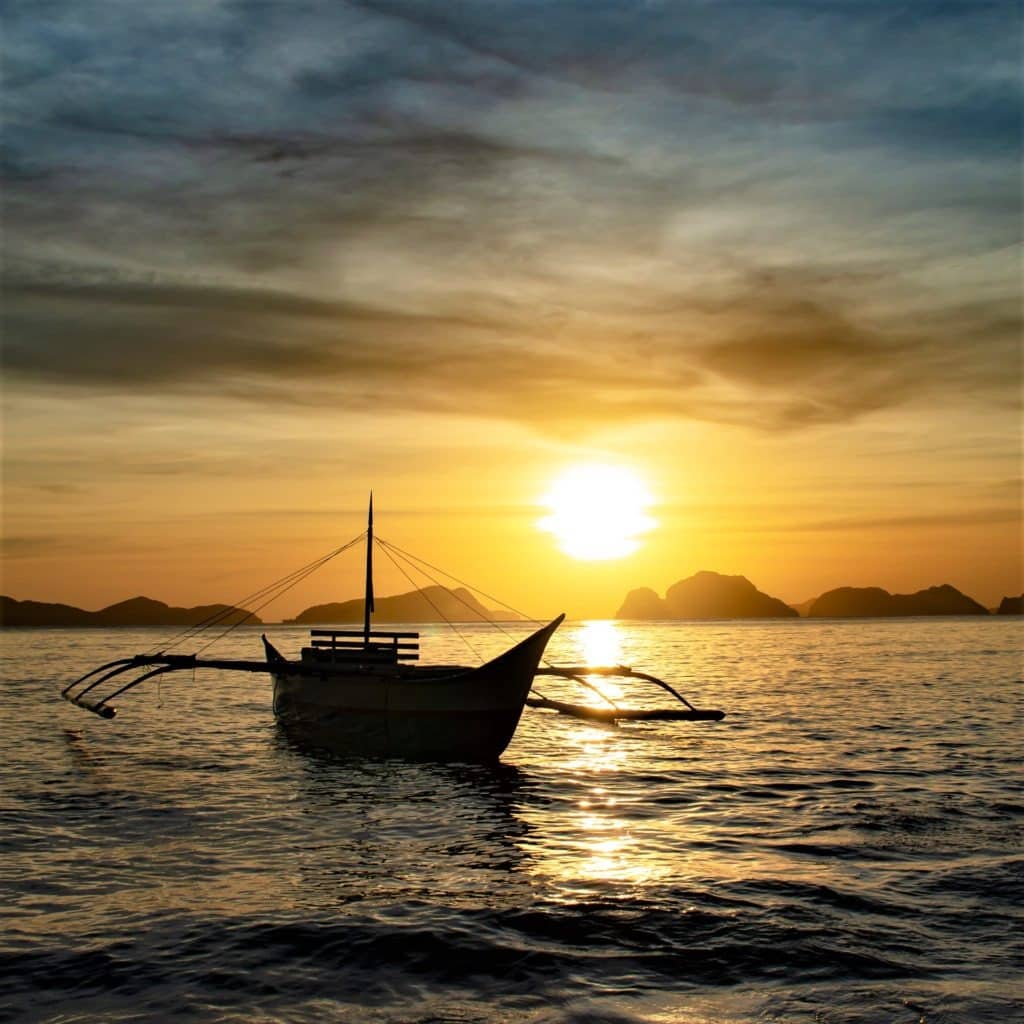 Tours in El Nido
In El Nido it is an absolute MUST to do tours! It depends on you whether you prefer to go scuba diving trips or venture the lagoons but you will see the most beautiful side of El Nido in the archipelago.
In El Nido they have a special system for the regular tours. They only have four tours called A, B, C and D that everyone is selling at the same price. I did tours A and C. A is the main tour to see the lagoons and C is the best one for snorkeling. These are also the most popular tours!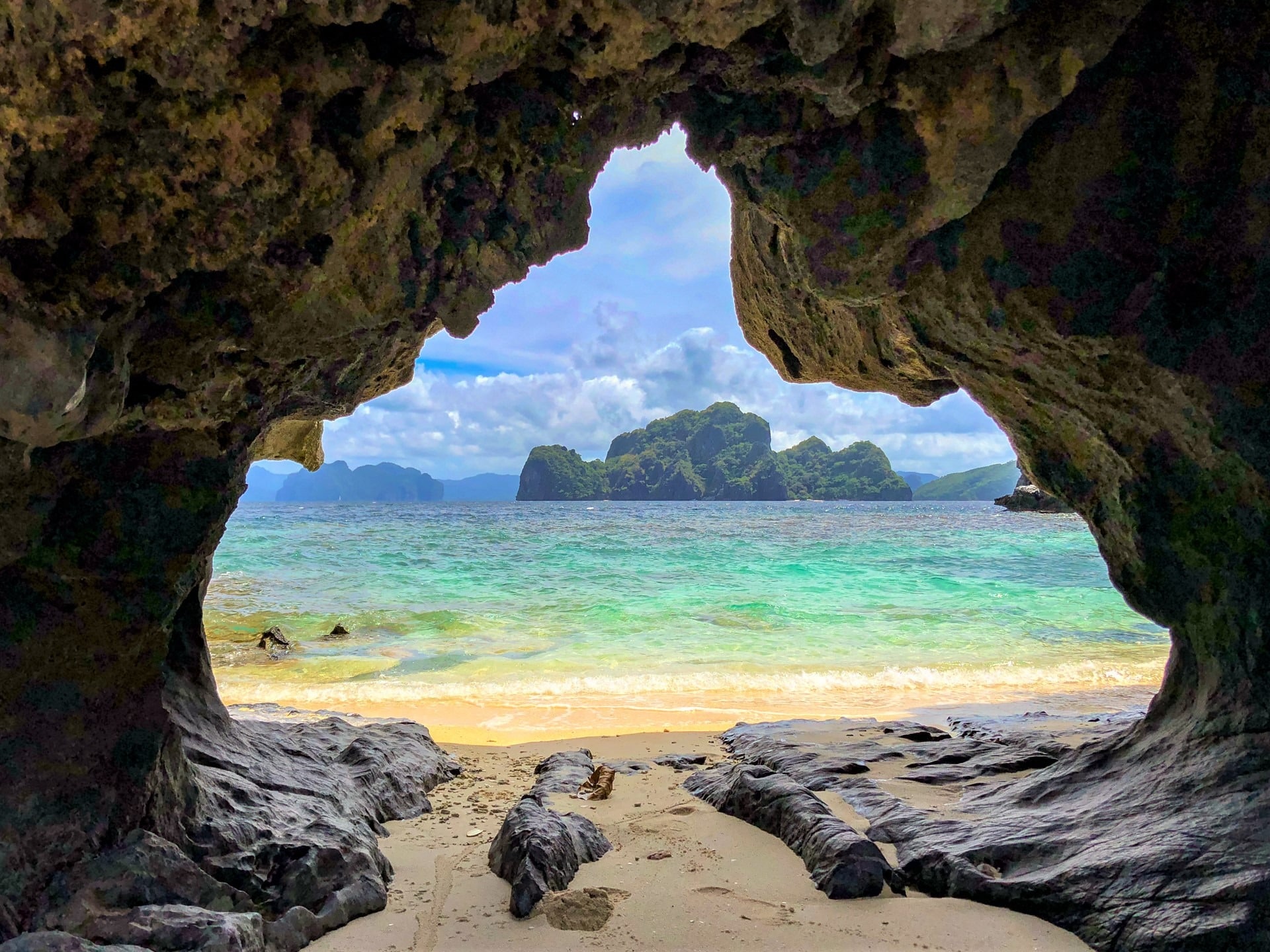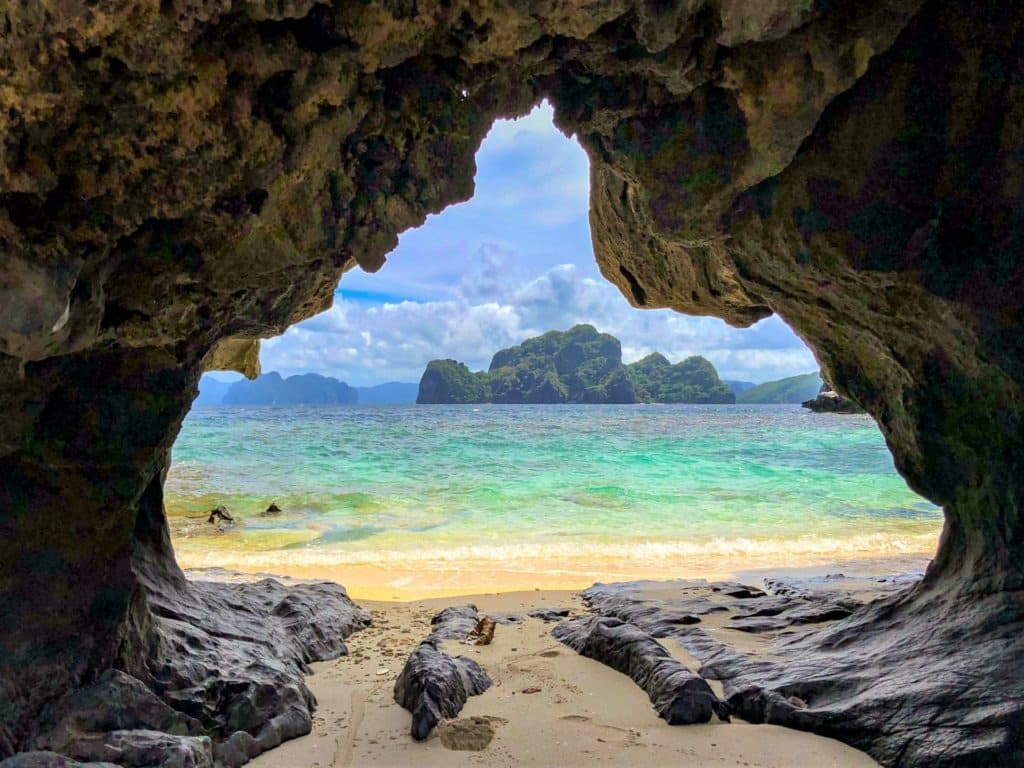 Quick tip: You can always take a private tour to see these places! Then you can design your own itinerary  and you can see the places you want to and spend as long as you want in one place. But remember that it's of course not guaranteed privacy since there might be other tours visiting the same place.
Tour A – beautiful lagoons
Tour A was mainly about the lagoons and the tour included Big Lagoon, Secret Lagoon, Simizu Island, Umbrella beach, and 7 Commandos Beach (on February 2019).  This is also a tour that I highly recommend taking! The starting price for this tour is 1200 Philippine Pesos.
In addition to the 1200 PHP you need to pay:
+200 PHP for ETDF eco-tourism development fee (this is purchased only once and you can use it when taking other tours)
+200 PHP entrance fee to the Big Lagoon
+125 PHP for renting the kayak in the Big Lagoon
+100 PHP for the reef shoes
Total 1825 PHP
Make sure that your tour operator tells you about the additional fees that will be paid during the visit!
What I loved the most of this trip was definitely the Big Lagoon and kayaking there! It is truly an amazing place with crystal clear turquoise water. I've never seen water as turquoise as it was there!
You will also get a chance to go snorkeling during this tour which I absolutely recommend as long as you can swim! The current might be strong and having your own fins is not a bad idea. The underwater world is truly amazing so I took every chance in the Philippines to do some snorkeling!
Tour C – snorkeling tour
Tour C is a must-do if you love snorkeling! It's absolutely the best choice for that out of the 4 tours. Of course you can take a separate snorkeling trip from the dive shops but I do recommend this tour. I bought my tour from Hannah's tour shop which I highly recommend.
The tour C is 1400 PHP and 100 PHP for the reef shoes (and +200 PHP if you don't have the eco-tourism development fee paid earlier). On tour C you will visit Hidden Beach, Secret Beach, Matinloc Shrine, Star Beach and Helicopter island. Matinloc Shrine has an entrance fee of 100 PHP but not all the tours go there. It depends if your tour mates prefer snorkeling over visiting it.
I think the highlights of this trip was the Hidden Beach and the Secret beach! The Secret beach was a bit too crowded though. For me the cool thing was that I saw a school of cuttlefish when we went snorkeling!
Read my other article which will have more detailed information about the tours and how to select a trustworthy tour company!
The underwater world in El Nido
The underwater world around El Nido area is truly amazing! The corals are doing well and there are a lot of fish compared to the waters in Thailand. If you scuba dive, do some diving there! This time I was only snorkeling but that was a great experience too!
Just remember that never touch anything underwater and never ever take a starfish out of water or else it will die! Be careful where you put your feet and always make sure it's over a patch of sand. I became so sad when I saw people stepping over the corals. Please remember to preserve the nature and there aren't too many corals left so let's be careful when we are snorkeling and diving.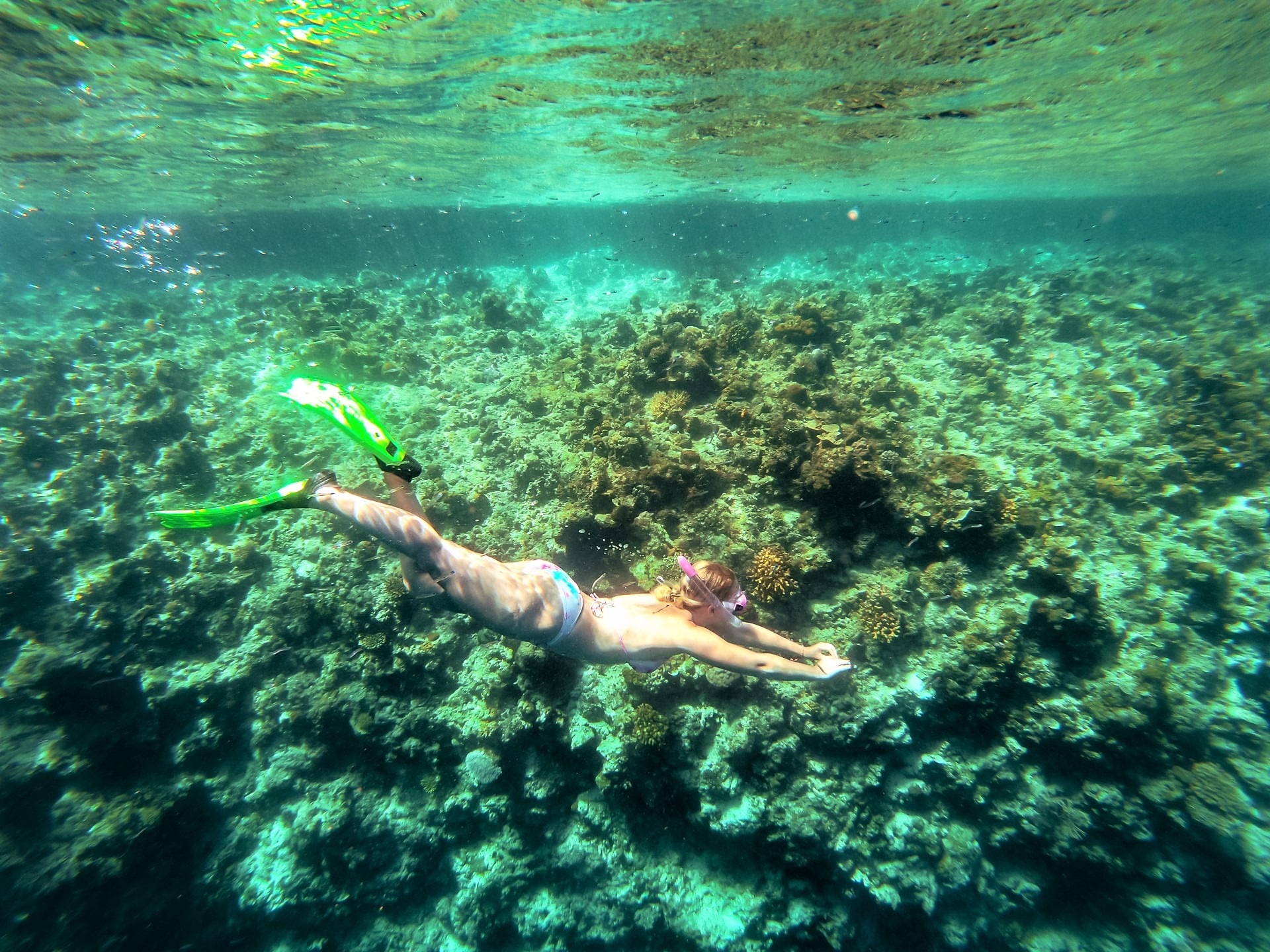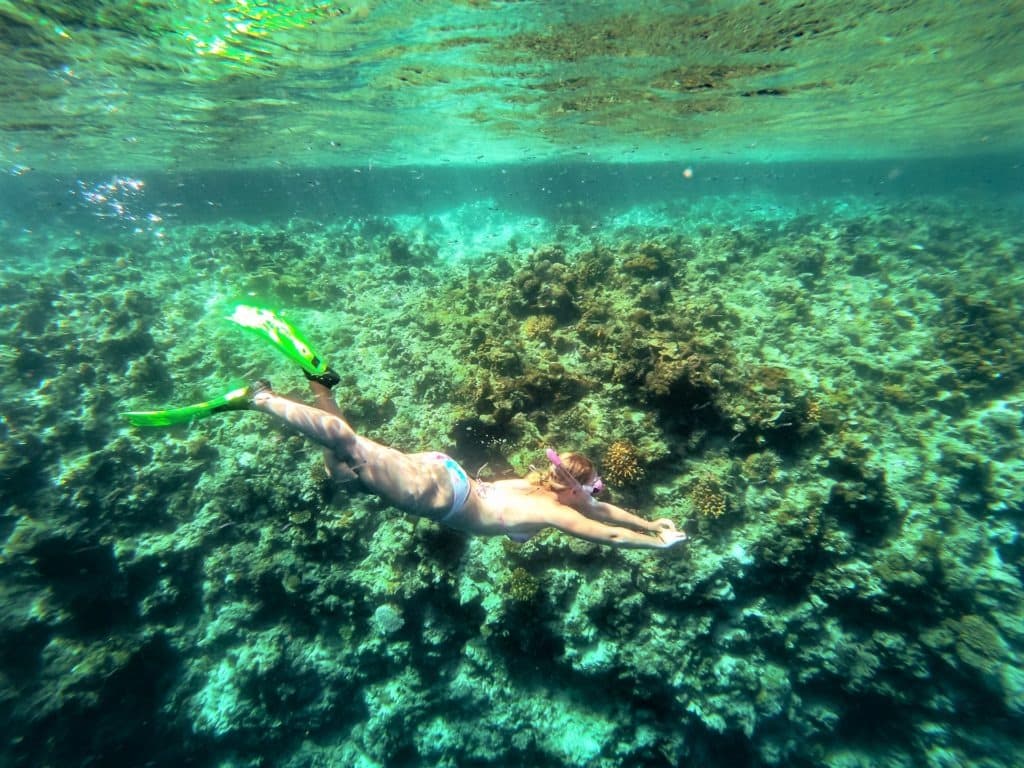 The highlights of the underwater world for me were the Napoleon Wrasse fish and a school of Cuttlefish. So cool! There are also a lot of Anemone fish (nemo fish) in the El Nido waters which I absolutely love. Just be aware of the territorial Trigger fish when snorkeling because the reefs are often close to the surface and Triggerfish might feel themselves a bit anxious if you get too close. Some beaches also had a warning of Rock fish which is highly poisonous.
Las Cabanas and Marimegmeg beach
When visiting El Nido it's a must to visit Las Cabanas and Marimegmeg beach. It's a famous beach for beautiful sunsets! The sunset I saw there was probably one of the most amazing sunsets I've seen in my entire life. The colors kept changing during the whole evening and it was truly a sunset worth seeing.
I went to Las Cabanas and Marimegmeg beaches in the morning around 10 am and I got the beach almost only to myself. I walked many kilometers on the beach and wanted to see where the beach ends. Eventually I had to turn back because I saw that the beach just goes on forever. The views on the beach are amazing and I highly recommend taking a morning walking trip there. If you want to go swimming, reef shoes are a good idea because there may be sea urchins in the water.
If you're getting there from El Nido village, you can get a fairly cheap price from the tricycle driver especially before mid-day. But expect to pay a higher price after the sunset as the drivers seemed to have all agreed on set list of prices when customers are pouring in.
On the beach there are a few bars and restaurants. The food there is pretty expensive but the price of the beer is alright, haha. Some of the bars have cute swings where you can sit and watch the ocean. Some have sunbeds or fatboys where you can lay down and adore the sun. I visited there on February 2019 and they were building a big shopping and dining area next to the beach so probably latest next year there will be more options for dining too.
Like I said sunset is the main reason why to go to the Las Cabanas and Marimegmeg beach and you can't afford to miss it! They are truly beautiful beaches so I highly recommend taking the time also during the morning or daytime to visit the beach.
El Nido village
El Nido village is where all the action happens. Most of the bars, restaurants and tour offices are located in the village center. The center isn't big but it's crowded with cars and scooters. It might feel like a mess at first when you visit there. Luckily the beach road is a pedestrian street so there you can walk in peace.
In El Nido village there are different types of restaurants and the price varies a lot. I found a few good ones on the pedestrian street like one with glass doors and looked more like a local dinery inside. It had amazingly cheap and delicious food! There was also a great family run restaurant called Maa's Grill on the Calle Hama street. What surprised me in El Nido though is how quick all the restaurants become full. So don't go to eat too late (like 8 pm) because you may not fit in to the restaurants anymore!
If you are looking for a beach to go to near El Nido village I would say that go straight to Las Cabanas beach. The beach in El Nido village isn't too tempting and the nearby Caalan beach is a rocky beach with a bit of sand.
El Nido is one of the most beautiful places I've ever visited. It has the most turquoise water I've ever seen and the lagoons are truly breathtakingly beautiful. The underwater world blew me away since the visibility is at least 30 meters, there was a lot of fish and the corals were full of color. El Nido is one of the area where I need to get back to one day. There are so many more islands to explore and the sea is definitely calling me back.