My travels might seem fancy and glamorous but now I want to share the reality behind the Philippines travel. I will share you behind the scenes material with some funny coincidences and a bit more serious incidents. I want to remind you that traveling ain't always easy and it will test you as a person but it also teaches you a lot. Here are my travel fails from my trip to the Philippines!
Health issues
Fainted in a grocery store
First and foremost, remember to keep yourself hydrated enough on your travels! It was my first whole day in Alona Beach in Bohol and I had enjoyed my morning by the pool and afternoon on the beach. In the evening I went to dine near the beach and when I was walking back I was feeling quite weak on the first hill. I thought I was just getting sick because I had had the feeling of catching a flu for a week.
I went to a 7-Eleven to buy some groceries and when I was on the line waiting to pay my things I suddenly felt that I will faint. Quickly I sat on a chair two steps from where I was queuing and blacked out. It was a scary feeling when I tried to open my eyes and I couldn't see properly. My brain was just saying that I need to get to the hospital now or I will die.
I was given some water and sports drinks and I drank many litres of them. It got me maybe 30 minutes to recover. I was really glad I got through it just by taking the sports drink. I managed to get back to my hotel even though I still felt quite weak. The next day I felt already better. The experience scared the hell out of me! I didn't know what was going on and I feared it was something more serious. I thought I had drunk enough of water and learnt the lesson the hard way.
Starting off with a flu
On the next day after I had fainted in the grocery store I already felt better but I then I got the flu. Before I left Finland to the Philippines I was feeling like I could catch a cold soon but it waited a week until it kicked in. Maybe the air-conditioning was too cold or something. That was the day when I had rented a scooter and went to the Chocolate hills. Glad I survived with little fever and the next day I was already feeling better. You don't need your nose for snorkeling right, haha!
Scooter troubles
I rented a scooter with my travel buddy for a day to go to the Chocolate hills and to see the tarsiers. The trip to the Chocolate hills went well but when we left the viewpoint of the Chocolate hills and went down the hill we noticed that we had a flat tire. The locals told us that there's a repair shop quite close. My travel buddy drove the scooter slowly to the repair shop and I waited. We got a new tire which lasted well enough to see the tarsiers and back to the hotel.
The scooter was rented from a B2B company which works with the hotel and we told the hotel staff what happened. The hotel staff got into a fight with the scooter rental because they didn't want to pay us back. Since we had paid full day of the rental and it had a new tire, we thought that we'll still visit another beach nearby with the scooter. But when we left off from the hotel the tire was flat again after 20 meters. We asked the hotel staff to see what has happened again and they fought a bit more with the scooter rental.
In the end we didn't pay a new tire anymore and we didn't put any gasoline to the tank. So what we paid was the rental and the new tire that was changed near the Chocolate hills. Tip for you: DO NOT RENT A SCOOTER FROM ALONALAND RESORT!
Island tour fails
Saving lives
At the end of the tour A in El Nido, we went snorkelling. The boat and the tour guides were waiting behind the corner of a big cliff with no visibility to the snorkelers. All the snorkelers got a life vest and a mask. I went there happy to get to snorkel again and I had my own fins and mask. The place was pretty amazing but the current was strong and it was to the opposite direction from the boat. After I had snorkeled for some time I heard somebody shouting for help. It was a Filipino couple who couldn't swim.
I swam near the couple and asked them to try to swim on their back because that's the easiest way to swim forward with a life vest. They were such poor swimmers and so exhausted that they didn't move at all against the current. I was pondering whether I should swim back and tell the guides to come for help but I decided to help them straight away.
My travel companion took the husband and I took the wife and we started swimming. I was a lot quicker since I had the fins and I got the girl to the shore and went back to help the man. My travel buddy was exhausted also for dragging him. I took the guy and helped him to the shore. The man especially had swallowed quite a lot of water so I told him to go for a medical check when we get back to El Nido village.
That was a lesson learnt that not all the tours and tour guides are professional. Consider twice whether you want to go snorkeling if you can't swim!
Read more about the El Nido tours from my other article!
Fish bite and plankton stings
On tour C in El Nido I went snorkelling again. This time I didn't need to save lives but I hit into a school of plankton. I got stung especially to my legs. I went back to the shore and asked for vinegar but the tour crew didn't have any with them. Luckily the pain lasts only about 30 minutes and was gone when we ended our lunch break on that beach.
On tour C we visited a beach where there were quite big rocks on the seafloor. We had to climb over them on the way to the beach. There are also some fish living between those rocks. While I was walking I suddenly felt a bite on my calf and saw a fish swimming away. That vicious fish left a mark on my leg but I was glad it wasn't venomous. But how lucky I have to be that the ONE GRUMPY FISH WANTS A PIECE OF MY CALF!?!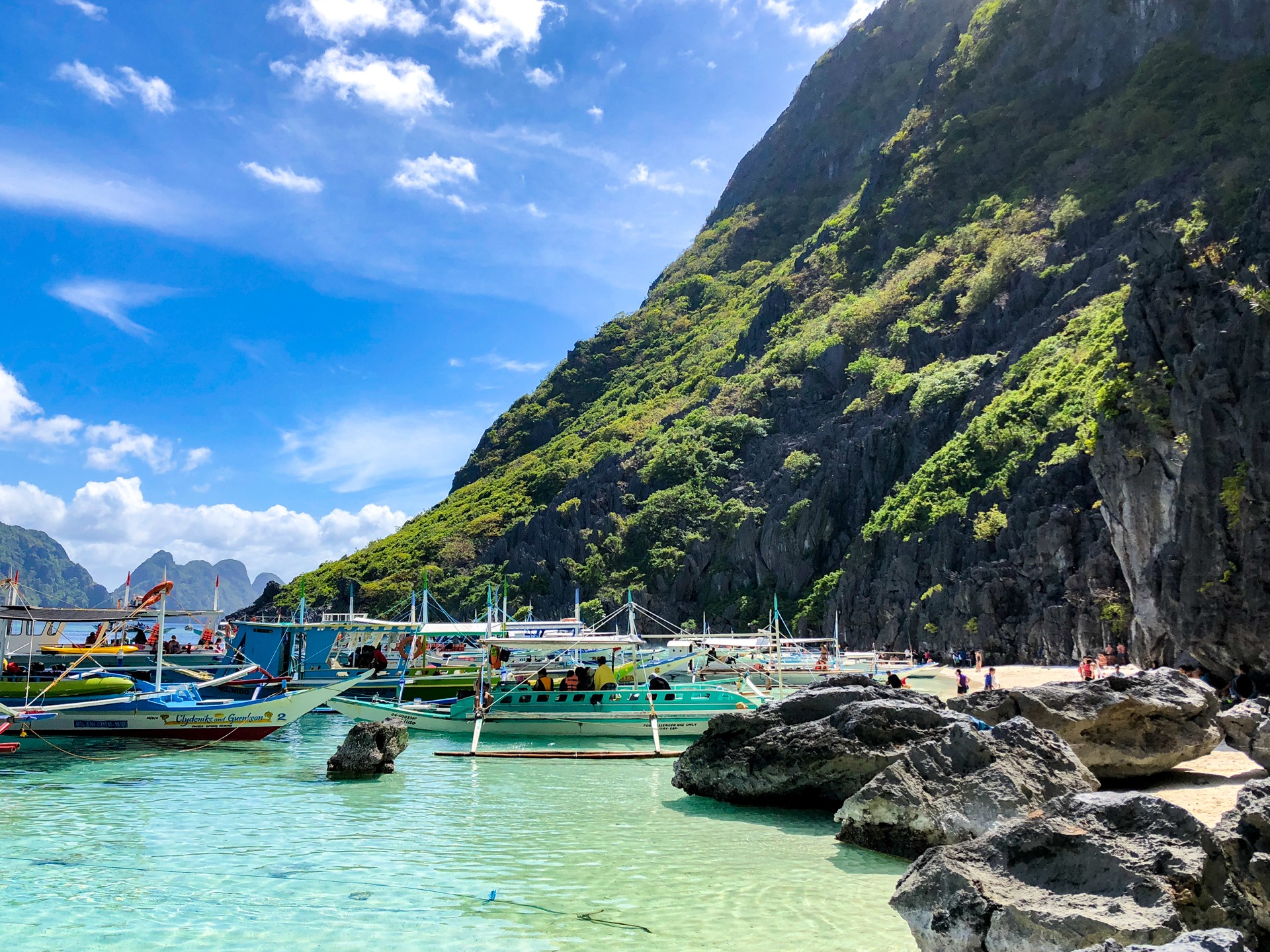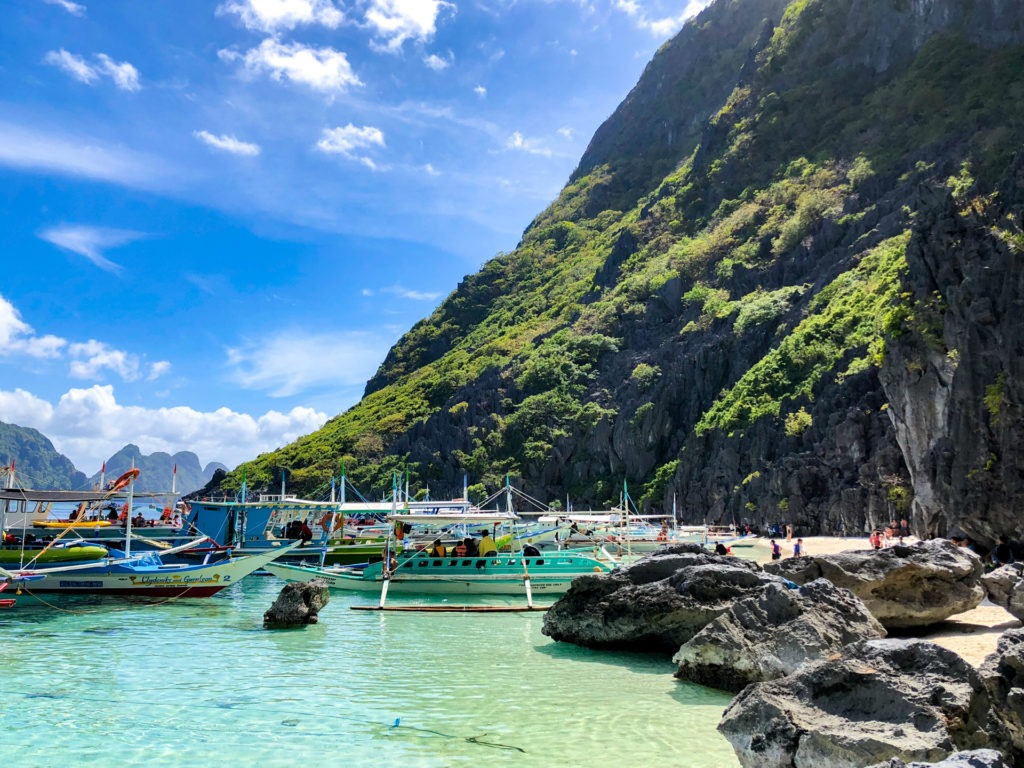 Accommodation fails
The accommodation choices can go wrong too no matter how professional you are in traveling. Even though I try to pick the ones with alright reviews online and the best of the budget accommodations I've found myself sometimes in very weird places. During my trip in the Philippines I stayed in 2 places that I won't ever return to or suggest to anyone.
Cebu town
In Cebu town I stayed in a budget room in a what I would rate a 1-star hotel. It was a tiny room with awful decor and the shower was over my toilet seat. I was glad I had to stay there only one night. What made my experience even worse was that the Cebu town felt very unsafe. Because of my blond hair I got a lot of attention that made me feel a bit uneasy. I mean in the Philippines it was quite normal that I get some looks but in Cebu I felt like I'm the big target and if I don't get shot I will get robbed. Luckily nothing happened but I won't return there ever again.
Manila
In Manila I had to stay one night near the airport. I wanted to stay on budget, and I chose the budget hotel that seemed to me the cleanest and that got fairly good reviews. It is called RedDoorz near Terminal 1 of Ninoy Aquino International Airport. I ventured out from the hotel hoping to find some food before going to sleep and the nearby areas looked a bit sketchy. I ended up finding a nice lady selling noodle soup which was actually heavenly good. There was another lady cooking some barbecue sticks which I tried as well and it was delicious!
The night was to say the least interesting. My room was actually pretty nice and the bed was comfy. But outside there were dogs barking like mad throughout the whole night. Then I woke up around 2 am when I heard 10 gun shots. I was like should I just get a taxi to the airport right now since I don't feel safe. I ended up "sleeping" couple of hours more which was actually just listening to the dogs barking. Cannot recommend that accommodation anymore after my experience there.
In conclusion
Traveling might seem quite fancy when looking at those perfect beach photos, but you cannot see the reality behind them. There are travels that go very smoothly but usually there are at least some issues during the trip. Especially Instagram gives us the impression of deserted beaches with perfect people enjoying their luxurious travels. I wanted to break the image of my travels with this article. Traveling is awesome and mostly very enjoyable but there's always some travel fails on my each trip.
Let's travel some more!
Here you can click on to my Bohol and El Nido articles!