Riga is the sympathetic capital of Latvia but with a lot of character! The cityscape is known for its mix of beautiful medieval Old Town and detailed Art Nouveau styled buildings. When you step away from the centre area you will see more concrete blocks from the Soviet era. This was my second visit to Riga but my previous trip was quite short. I now had three days and felt that I was able see most of the Riga centre and Sigulda.
I flew to Riga with airBaltic direct flight from Helsinki which takes only 50 minutes!  Despite the shortness of the flight it was awesome to fly in business class! It's been ages since the last time. The attention I got from the flight crew felt so weird to me because I'm quite a modest person (as we Finns usually tend to be) but it was also great to get high quality service. The food was also delicious which I'm not used to on flights!
Riga has a lot to offer and here is my ultimate travel guide to Riga! I hope you enjoy it!
-Parts of this article were made possible through collaborations-
How to get to Riga center from Riga International Airport
Reaching the center of Riga is pretty easy by bus but there are a few things you should know beforehand. Firstly, there are two common bus types in Riga: the normal kind and minibuses. Bus line number 22 to Riga is a normal bus so you should fit in quite well. Bus lines 322 and 241 are minibuses so carrying a big suitcase or a backpack can be difficult. It's already hard enough to find a seat without hitting someone!
You can purchase your tickets before getting on the bus or directly from the driver. Tickets from the driver are 2 euros, pre-purchasing is a bit cheaper and you get your tickets from the airport's information bureau, kiosks and ticket machines. There is also one machine at the bus stop that accepts card and cash.
If you want to use something faster, you can also grab a taxi. Local taxi rates are different for every company e.g. some have a higher starting price but a lower rate for the distance or time. I noticed some companies had a distance rate of 1,99€/km and some less than 0,7€/km! So make sure to check the metered rate or agree on a fixed price for the trip.
Must-sees in Riga
Riga Old Town – This may be obvious but Old Town is the heart of Riga. You can't really visit Riga without visiting the Old Town. Almost all the sights are located there!
House of the Blackheads is the most famous sight in Riga. Every Riga visitor really must see this iconic building. It is really beautiful with its white decorations, the clock and all the other details.
St. Peter's Church is a grand church with a huge clock tower. You can also pay 9 euros and take a lift up to the roof to get a sight over Old Riga. There is also another famous viewpoint in Riga which is free: Radisson Blu Skyline. More info below.
The Freedom Monument is a war memorial from 1935. It's a pillar with a statue and decorations and it's nice to see but for me it was nothing spectacular. It's just outside the Old Town so you cannot miss it. It would be like missing the Statue of Liberty in New York. Next to the monument there's a really nice park area to go for a stroll!
The Three Brothers are the oldest medieval houses in Riga. They are three beautiful houses where the oldest of them (one on the right) was built around 1490.
The Swedish Gate is part of the Old Town walls and it used to be one of the entrances to the Old Town.
Riga Cathedral is located right in the center of Riga and the building states back to 1211. It's huge and has its own square, a popular spot for holiday photos.
Art Nouveau District is located 10 minutes walk away from the Old Town around Alberta iela. There are really beautiful Art Nouveau buildings. Remember to look up!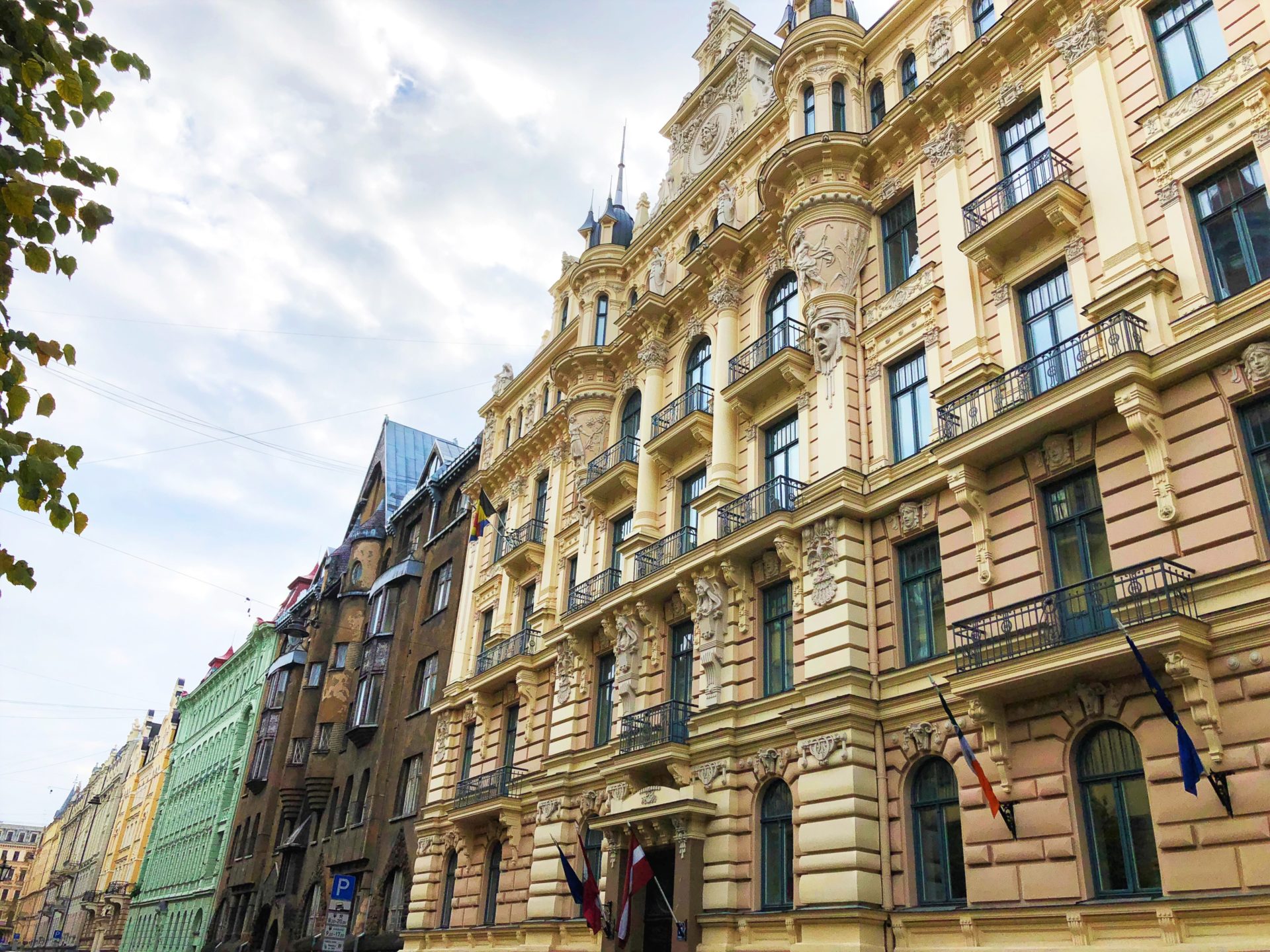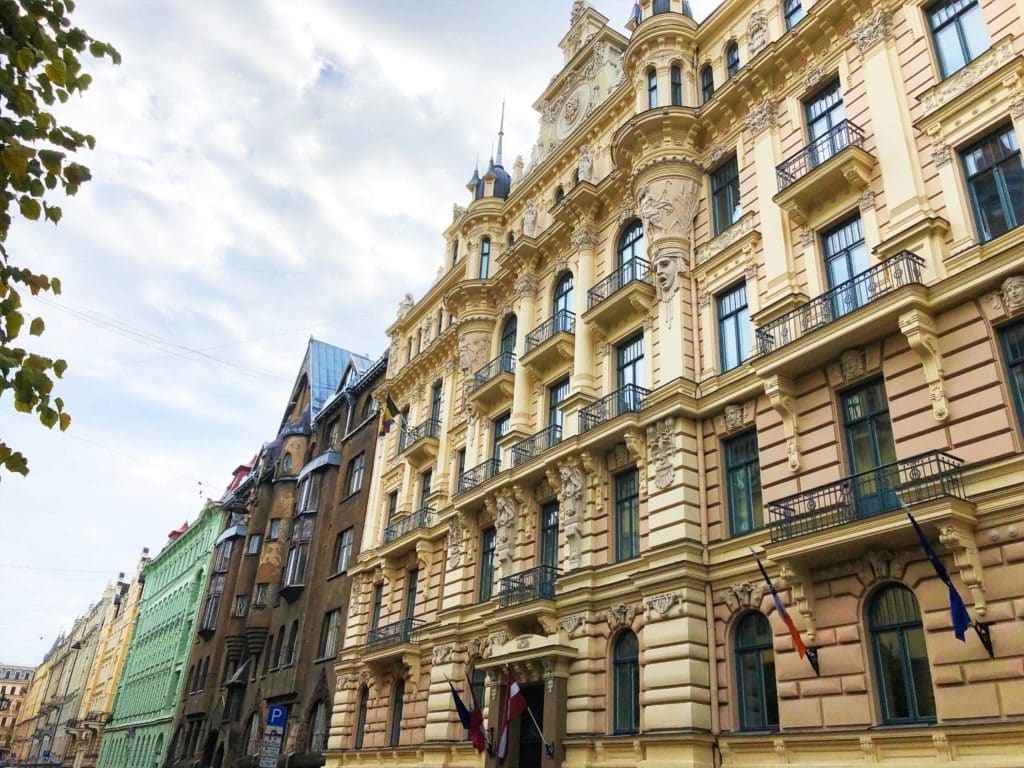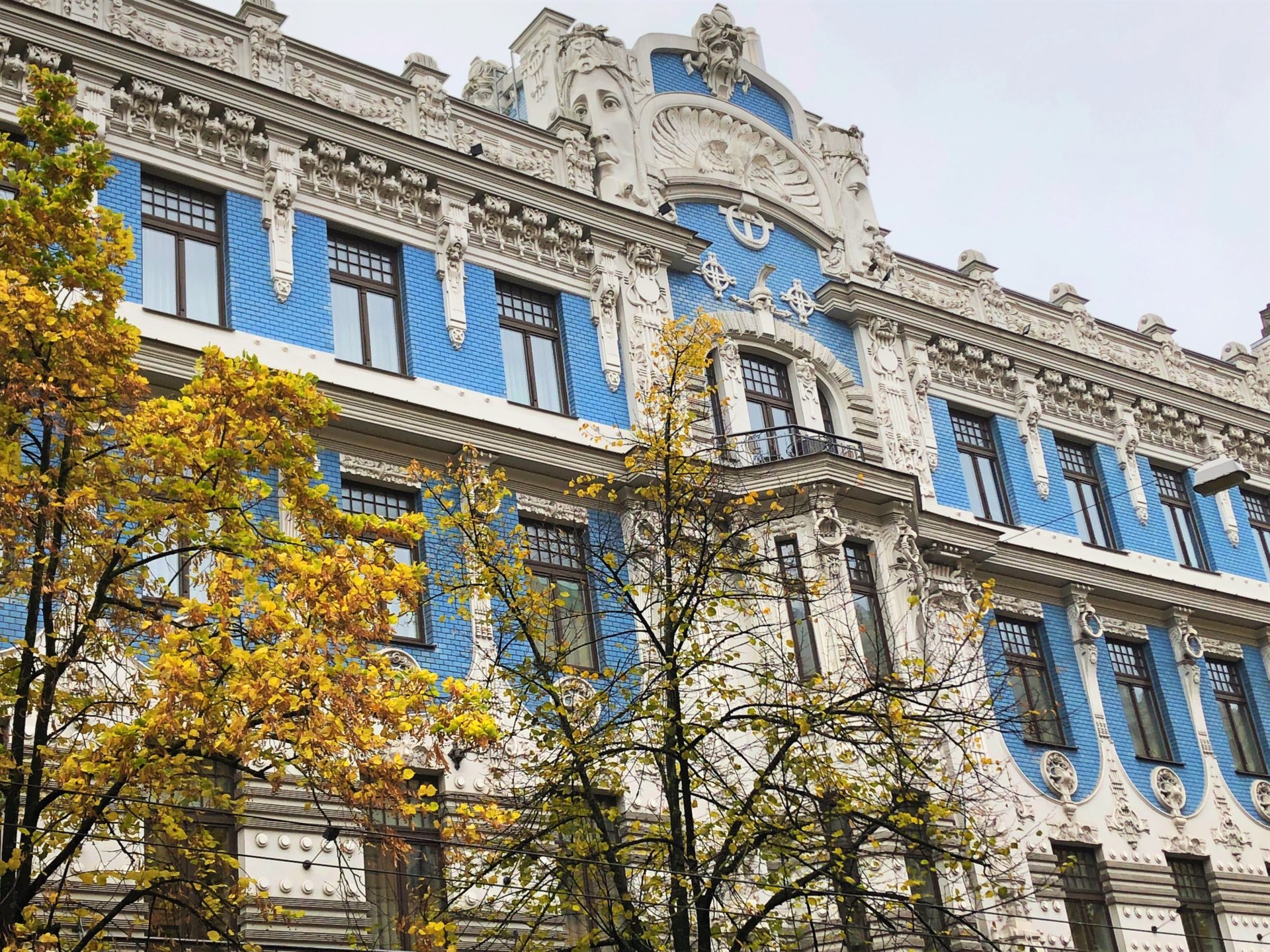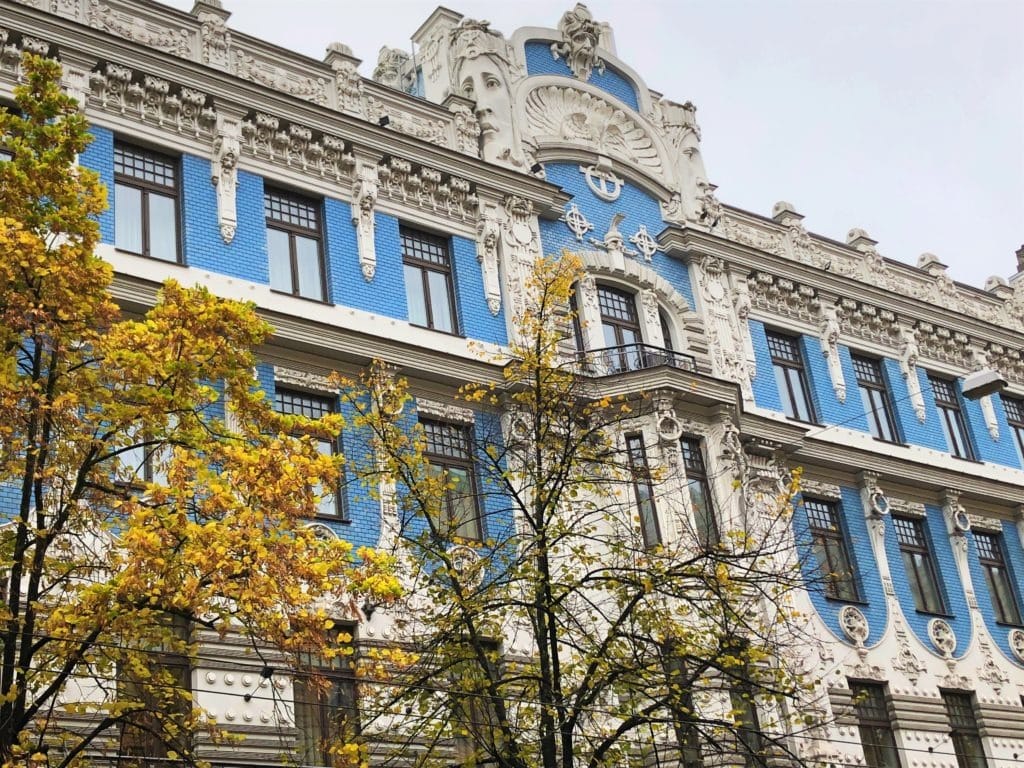 Cat House is a building in the Old Town that has cat statues. It's architecturally a cool house with different styles and the twist is of course the cats.
Wall painting next to the Riga Cathedral – It is located in the corner of streets Doma laukums and Skunu iela.
Accommodation in Riga
In Riga I stayed at Clarion Collection Hotel Valdemars that is only 10 minutes walk away from the Old Town and right next to the Art Nouveau district. The hotel's exterior is also Art Nouevau styled.
The hotel has a long history which dates back to 1901. At first the building was used as luxury apartments and in the 1930s the house belonged to the first president of Latvia. During the Soviet occupation the building was confiscated and used by KGB generals. After Latvia gained its independence 1991 the building was slowly turned into a hotel that it is today.
In the hotel the evening meal and afternoon "fika", coffee and cake, are included in the price which I found pretty awesome. "Fika" is a Swedish word that means a coffee break. Even though it's more of a Swedish thing, as a Finn I also appreciate my afternoon coffee so I went for a fika every day! On the evening I arrived I had dinner at the hotel (also included in the room price!) and I did enjoy it. The food was tasty and the variety was good and a bonus was the fresh bread!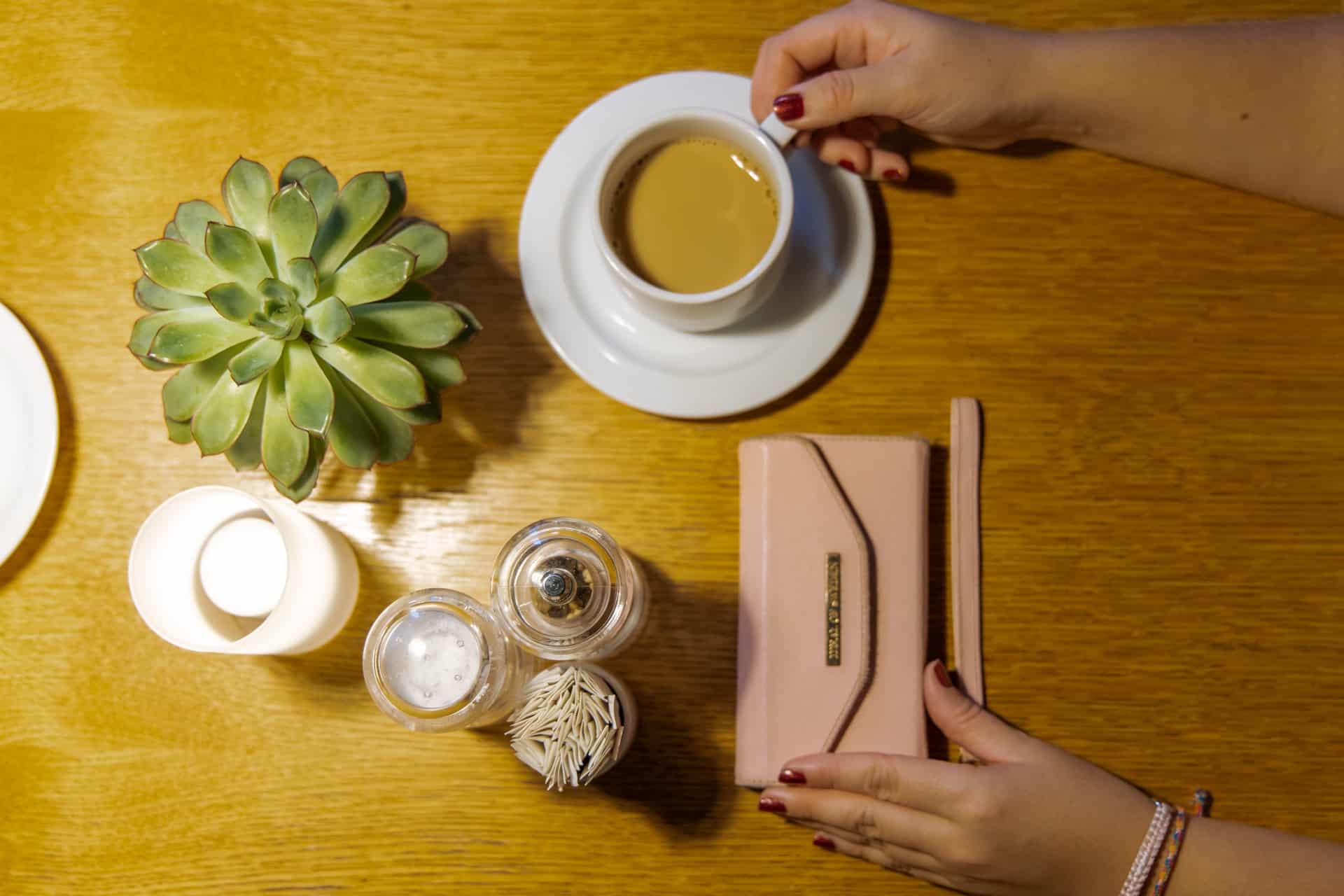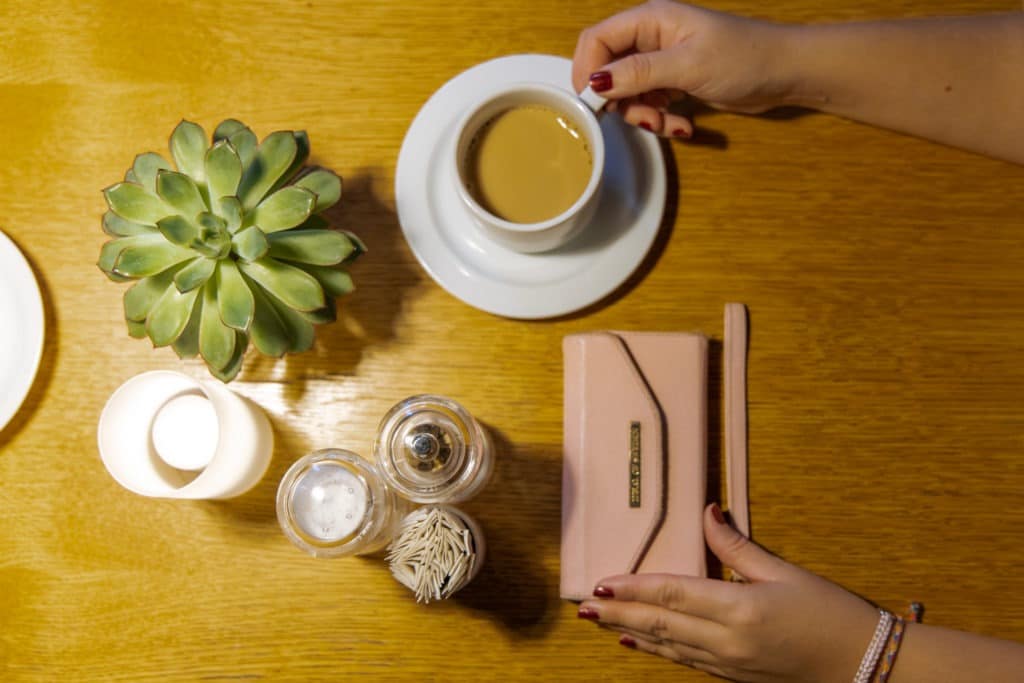 The rooms are really cozy and they respect the spirit of the history of the house. The ceiling is high and the decoration is simple and functional. Good thing is that they have a heater for the cold days in the room but unfortunately they don't have an air-condition for the hot summer days.  I visited Riga in October and room temperature was fine.
The common spaces look really classy and they are both clean and very inviting. This is the only hotel where I've actually seen the guests hanging out in the common areas!  I think the best part of the hotel is the wooden staircase with the colorful glass windows and the staff that is very kind and helpful!
Try these experiences in Riga
Radisson Blu Skyline Bar viewpoint
See Riga from above! Radisson Blu Latvija Conference & Spa Hotel has a rooftop terrace called Skyline that has stunning  360 views to Riga. It's is a stylish place to go for a cup of coffee or for a drink. It is kinda pricey but you're really paying for the views there.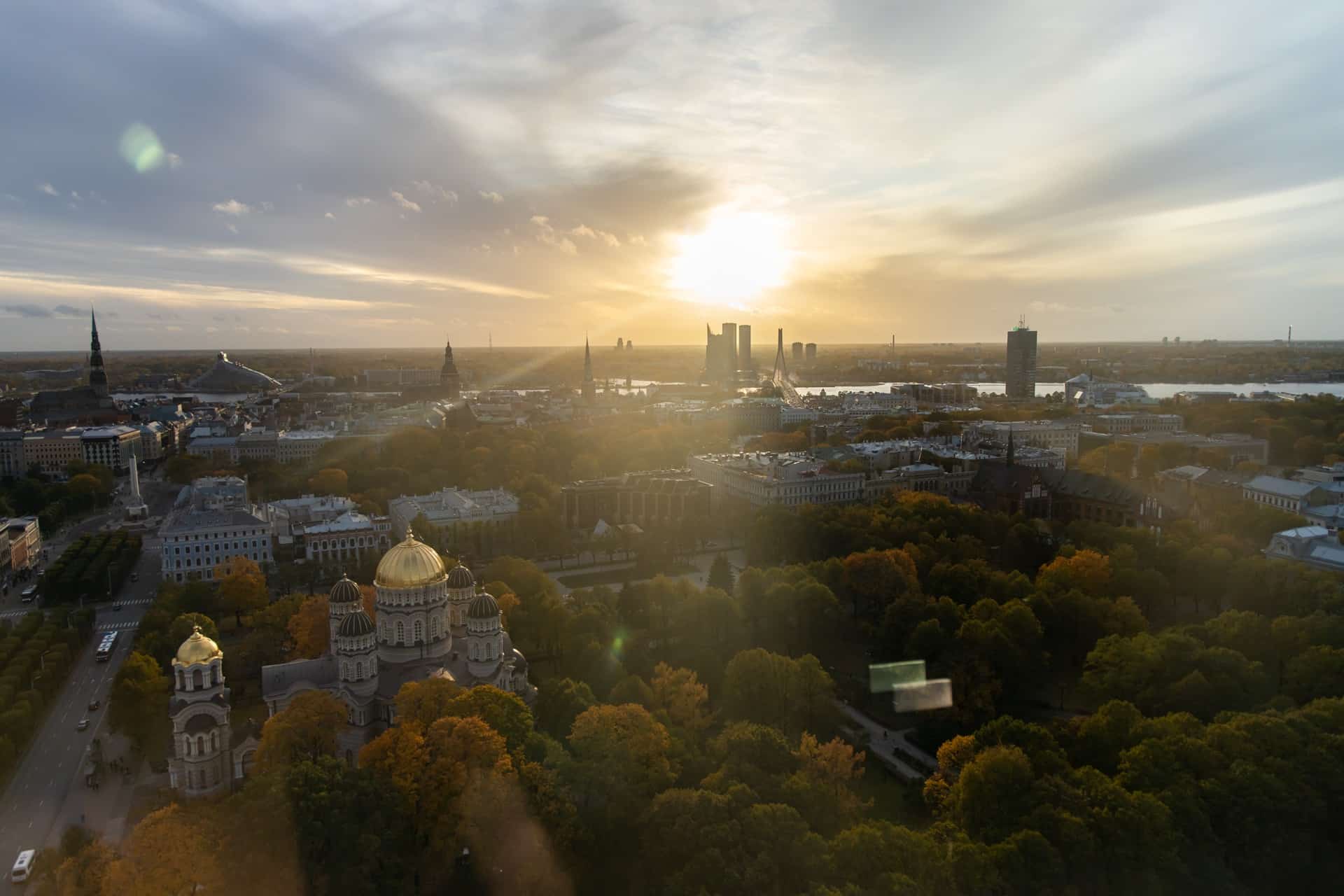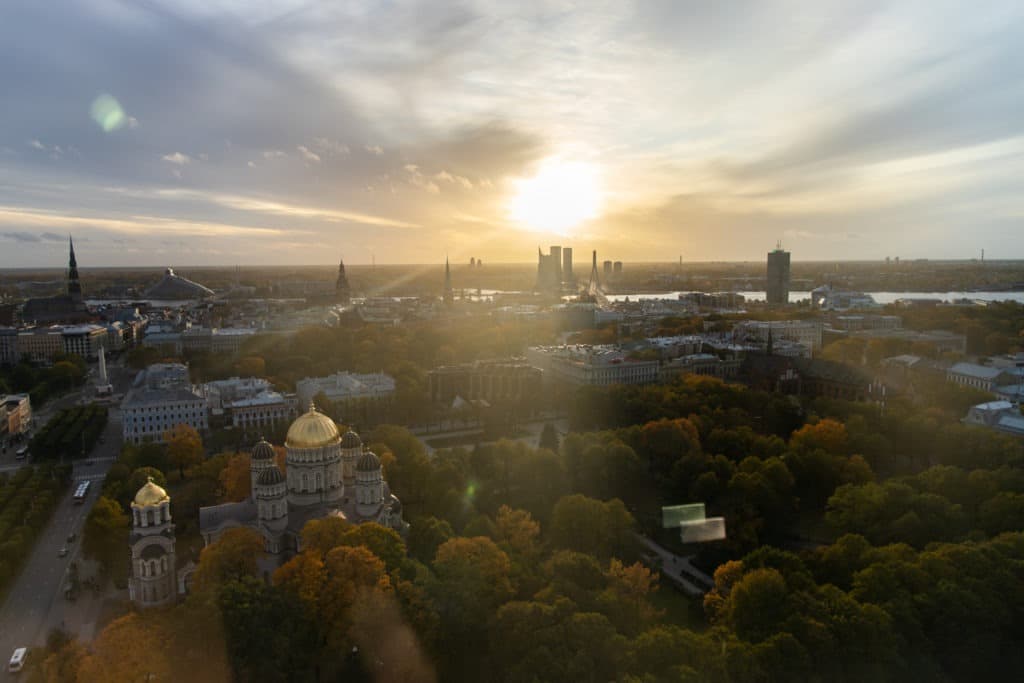 Day trip to Sigulda
If you have more than two days to spend in Riga, take a daytrip to Sigulda! It's located 1 hour away from Riga by public transport and it has beautiful nature and wonderful medieval castles. The best times to visit are summer and autumn when the colors make the scenery pretty. On my trip to Sigulda I visited two different castles, Sigulda and Tureida. Sigulda entrance fee was 2 euros and Tureida 6 euros.
You can get to Sigulda from Riga by train or by bus. The bus ticket is 2,50e and the train slightly less. It takes quite the same time to get to Sigulda with both means of transport. The trains leave from the central railway station and the buses from the bus station. The easiest way is to rent a car so that you get around Sigulda a lot easier but be prepared to pay for parking.
For moving around Sigulda you have a few options. I walked from Sigulda castle to Tureida and it took me around 1 hour through the forest route. My first plan was to take a bus from the Sigulda station to Tureida and then walk back but I just missed the bus. On my way back from Tureida there was no bus again going within the time I would have liked to go so I took a taxi which was 7 euros back to Sigulda station. A tip: check the bus timetables beforehand so you can plan your route better than I did!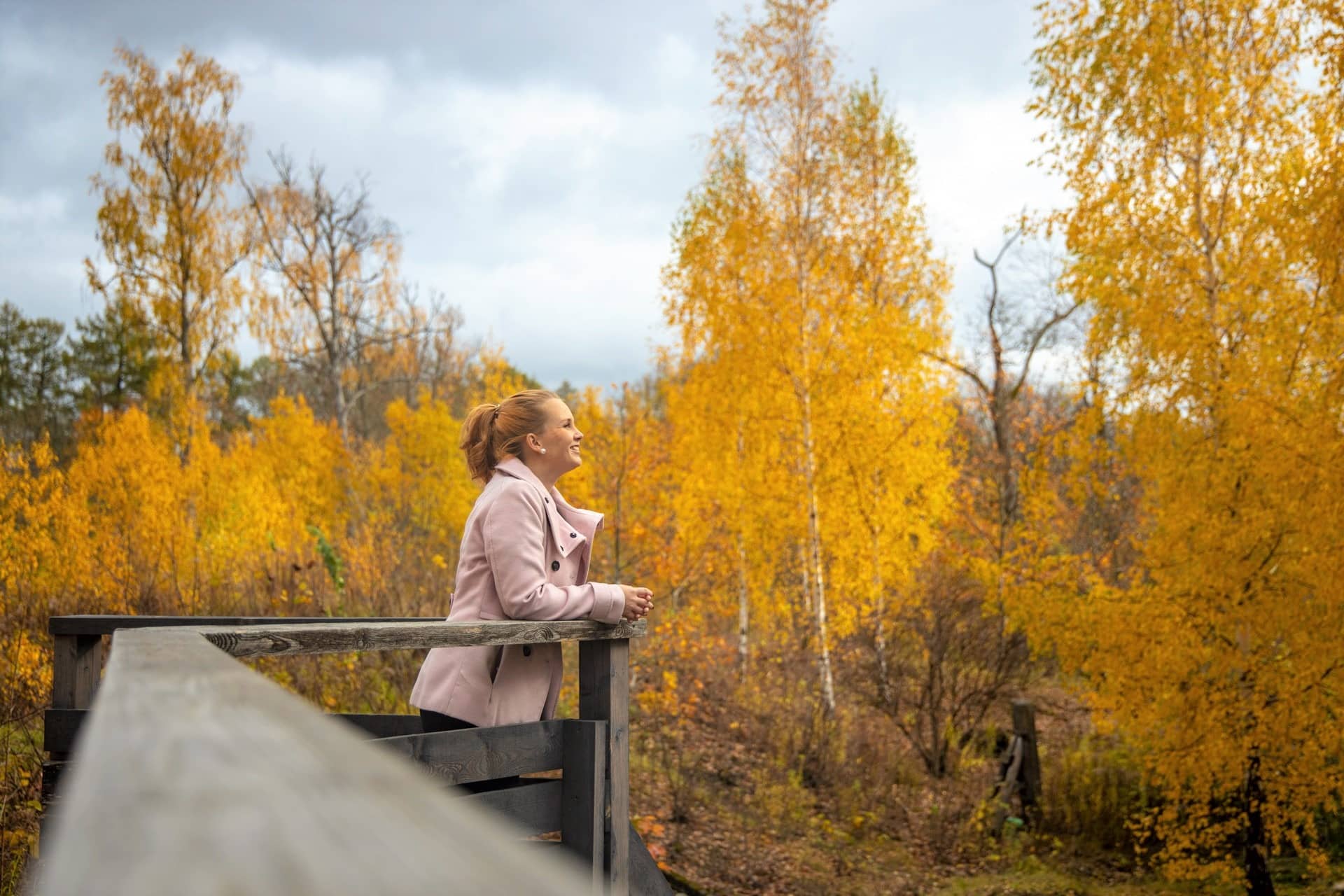 KGB museum
If you go a bit further out of the center, you can find the KGB building Stūra māja also known as the Corner House. During Soviet times, this is where many Latvians were tortured and killed. It's free to go inside but for a tour around the prison cellars, there's a fee of 10 euros.
The Museum of Occupation
This museum is currently under renovation and the exhibition has been moved from Old Town to just outside of it near the Freedom Monument. The exhibition coves both Nazi and Soviet Union occupations of Latvia between 1940-1991.
Dining in Riga
I rarely recommend any restaurants because I don't really have the luck of finding good medium budget restaurants. This time I got lucky! I also made table reservations which is not my usual style but I found out on my first night that the good restaurants get full during the weekends.
First restaurant I recommend is Restaurant Domini Canes that has really beautiful and absolutely delicious dishes on offer. It's a very cozy restaurant with not many tables so make sure you have a reservation if you want to go here. The second one I recommend is Zivju lete that is a seafood restaurant. Really delicious seafood and locals seem to like it too! That said make your reservation here! These restaurants have the price level of 10-20 € per main course depending on what you choose.
If you want to have a more local style lunch go to Lido! There are several of them, one is in the Old Town. It's a very traditional looking restaurant with almost like castle ages decor. It'a a very affordable place with tasty dishes. There you pick your food on the way to the cashier and you pay for what you've chosen.
Two bars that I suggest are Rock Cafe and Kwakinn. In Rock Cafe there are 3 levels and many rooms for sitting down and for dancing. On Fridays and Saturdays they also have live performances. It is a bar with good rock music and great atmosphere. I was there on a Sunday evening and randomly one customer took out a saxophone and started playing along the songs the DJ played. It was awesome!
Kwakinn bar is more for chilling and having a good quality beer. Their beer selection is pretty wide so if you like beer this is your place. They even serve food here! I took a mud-cake with ice cream and it was heavenly good.
In conclusion
Riga showed me the true October vibes with rain but luckily most days were sunny! I really love the architecture in Riga, both the medieval Old Town and the Art Nouveau district. The only downside of Riga is that sometimes I find the people there a bit rude. I always try to smile but I found it hard to get a smile back. I should be used to this as a Finn since we may seem a bit cold too, haha. But all in all Riga is a great city to explore and I really hope you find your way there one day! After reading this article I hope you put Riga and Latvia on your bucket list and go and explore it!