My vision of  Malaga was that it is a tourist destination with chilled holiday atmosphere but with a lot of travelers. Instead, Malaga was a lot more local than I expected and my first impression of Malaga was that it is widely spread and has big city vibes with busy people rushing around which was totally contrary to what I had thought.
Malaga still surprised me in a good way! The city is very beautiful and the architecture is really interesting. There is a bit of a mix of old and new but in a good way. I hope you will get excited of Malaga too after reading this article!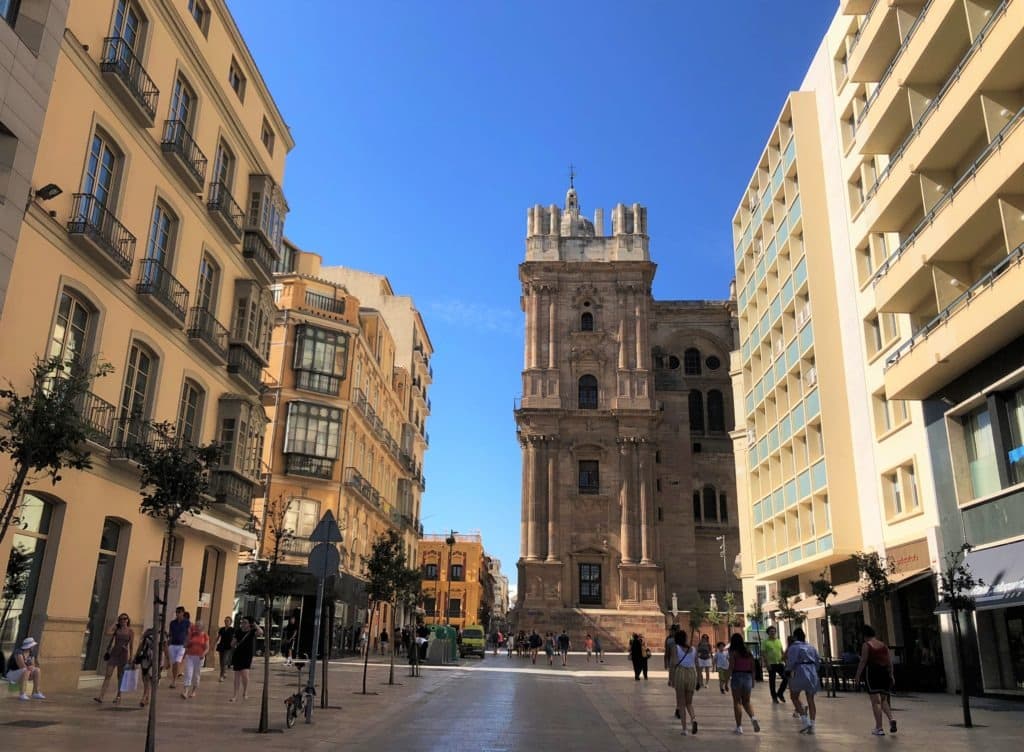 Must-sees in Malaga
I will share you the things I think you should definitely see on your trip to Malaga. They are pretty touristic but that's usually the case with sights. In addition to the sights below I suggest losing yourself in the streets of Malaga. You will find a lot of cute colorful streets when you wander around.
Castillo Gibralfaro
Castillo Gibralfaro is one sight that you cannot afford to miss on your trip to Malaga. I would say that the main reason to go there are the incredible views that you will experience from the castle. The other reason then is the interesting castle itself.
You can get to the castle by walking up the zig-zag stairs. Take some water with you since this hike will require a lot of sweat and muscles! There is a great viewpoint on the way so the walk will be totally worth it and of course you can stop as many times as you need. If walking is not your thing you can also take a tourist bus or a taxi to the castle.
The entrance fee is only couple of euros but if you want to save that money you can go to the castle on Sunday afternoon when the entrance is free.
Roman Theatre
You can see the Roman Theatre from the street next to it but if you want to take a closer look or take some fancy photos you can also enter the theatre. The entrance should be free of charge all the time.
Alcazaba
Alcazaba is a palace-fortress between the Roman Theatre and Gibralfaro castle. Alcazaba is really a combination of a muslim palace with beautiful archs and gardens and fortress with high towers and walls. Overall a great spot for some travel photos!
Cathedral of Malaga
Malaga Cathedral is a grand sight in the center of the city. It is surrounded by buildings and you cannot get a full sight of the majestic building in one sight. This is definitely one must-see that you need to add your list.
Muelle Uno
Muelle Uno is a modern walkaway by the ocean with some restaurants and shops. Architecturally this place is really cool and it's one of those iconic sights that if added to a poster I would know it's definitely from Malaga.
Calle Marqués de Larios
The main street of Malaga is called Calle Marqués de Larios. It's a street where architecture is absolutely amazing!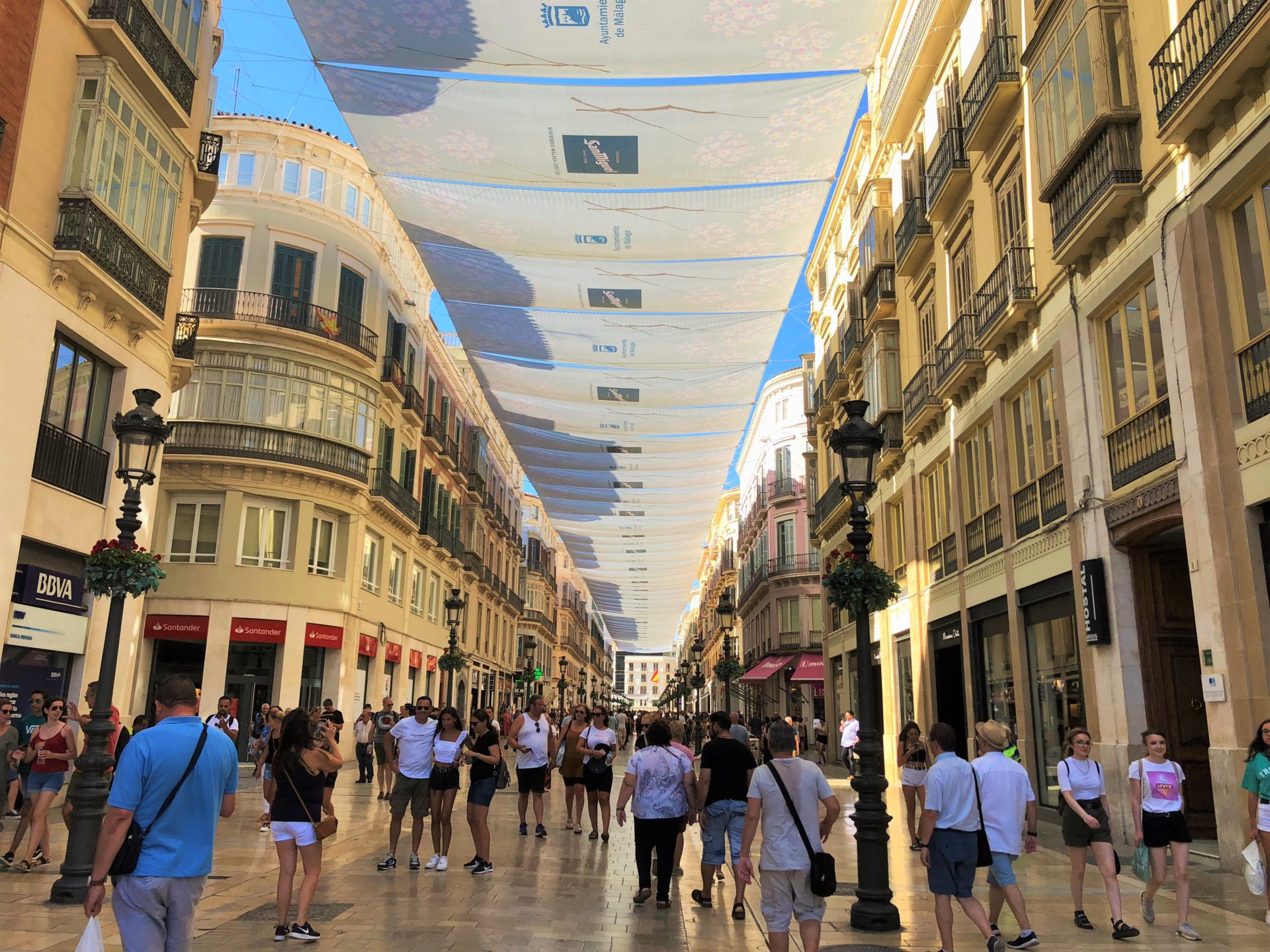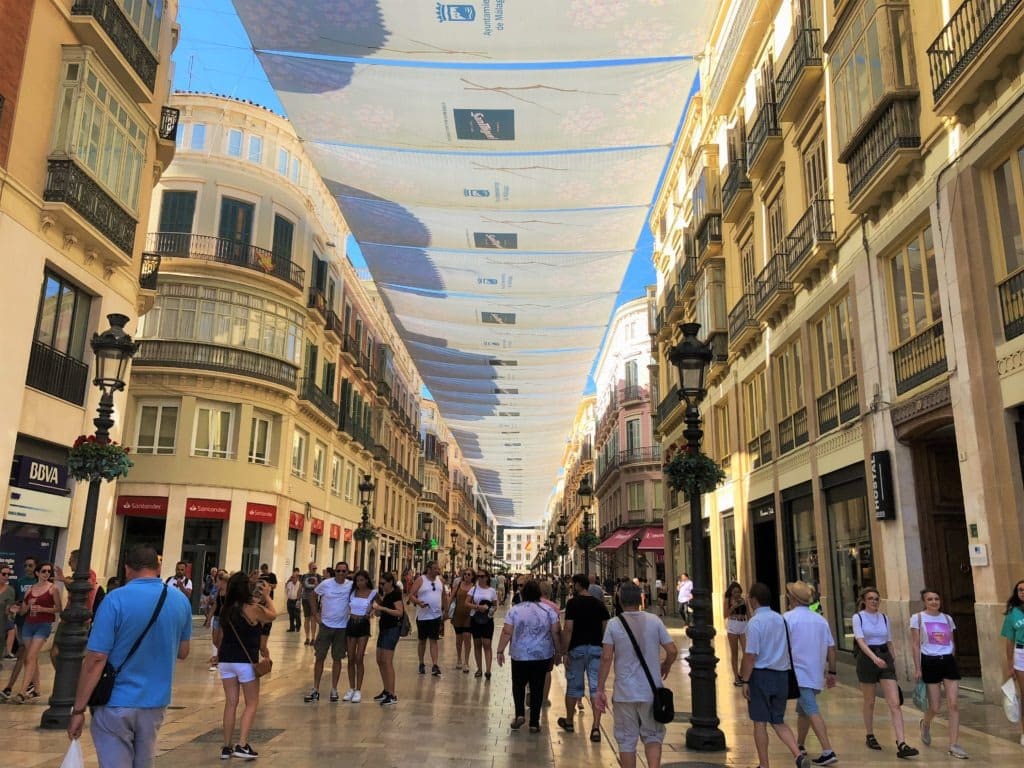 Soho area
Soho is an area in Malaga where the houses are full of street art. The street art is mostly well-done and you will get to see the real street art talents there on these pieces of art.
Malagueta beach
Malagueta beach isn't the greatest beach ever but it is an integral part of Malaga and therefore a must-see! It is also nice to cool down by swimming in the large beach area. The positive side of the beach is that it is HUGE. You can definitely find a quieter corner on the beach  and there is space for some beach activities. The downsides of the beach are the amount of rubbish on the beach and that it's quite crowded during the hot summer days.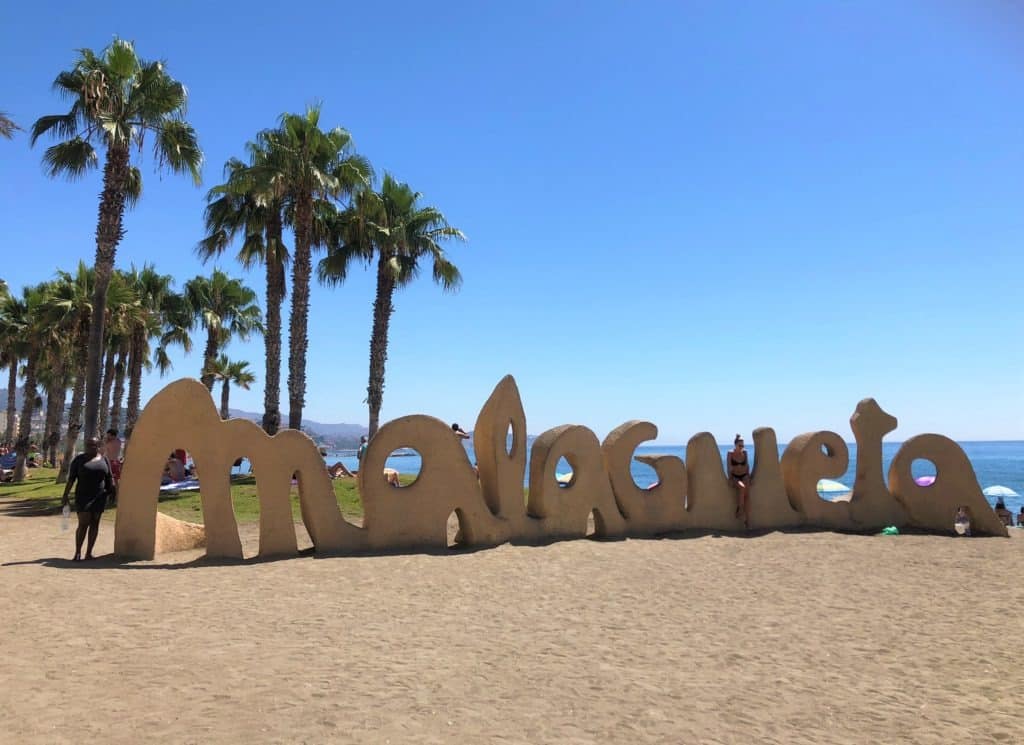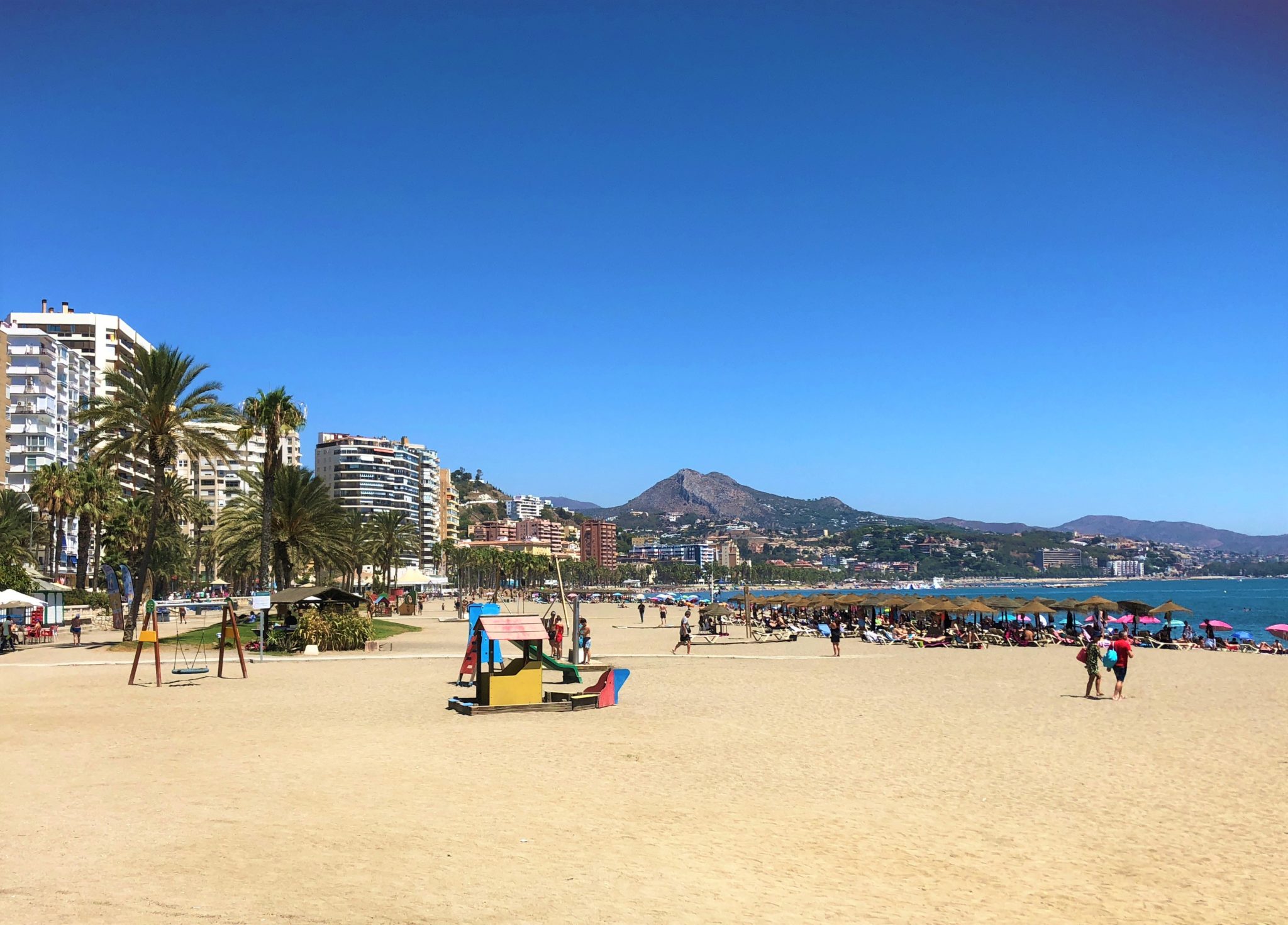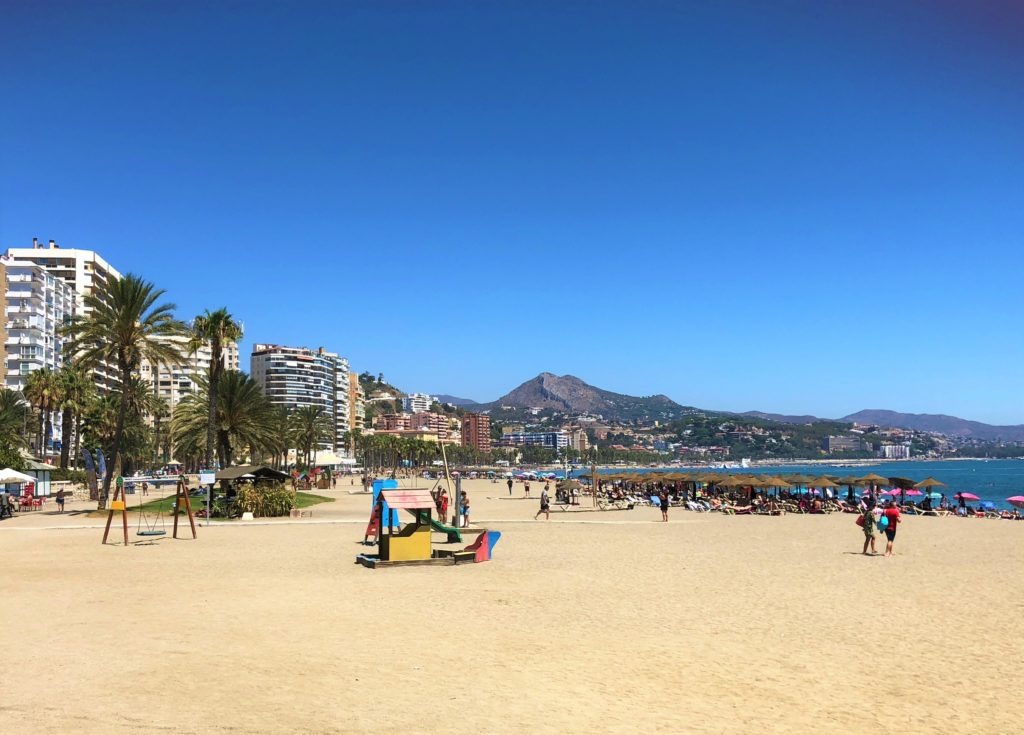 Centro Comercial Larios Centro
Centro Comercial Larios Centro is one of the biggest shopping centers in Malaga and a perfect place to do your holiday shopping.
Malaga feria – fun overload
Malaga feria is a fun and colorful city festival that occurs every year in August. It's a festival that turns all the streets of Malaga as venues of celebration that are filled with dance and music! If you can I highly recommend timing your holiday in Malaga for the feria time! But remember to book your accommodation early since they will be fully booked during feria!
I really loved the feria! The happy atmosphere, dancing and music were really catchy. It was great to see people from kids to old people celebrating on the streets. Great performances and salsa dancing  – we don't have fun outdoor festivals like that in Finland. Music everywhere and couple of drinks on a hot day, what could be better!
Bars and places to eat
Plaza de la Merced is a nice square where there are different bars and restaurants next to each other. Whether you are looking for a drink or a lunch here you will have some nice options. My favourite was a bar with swings!
If you're looking for a cheaper and more local place to have lunch you can go to for example Calle Victoria which goes next to Plaza de la Merced. You can find a  menu del dia which means 3-course lunch with a drink only around 8-10 euros.
In Muelle Uno there are restaurants that have beautiful views to the sea and harbour. I only went there for drinks so I don't know about the food quality but at least it's a good place for having a drink.
In Malaga center there are a lot of squares and streets that are more popular and filled with tourists. There are a lot of good restaurants there but the food is slightly more expensive but go there if that suits your budget!
Go to Malaga and explore it! I was positively surprised by how lovely city it is and I hope that so are you!
See also my tips to Granada which is only 1,5h away from Malaga!