Oh Granada! A city everyone should visit! Granada has amazing various old architecture, delicious tapas and the friendliest locals. The beauty in the architecture dates back to the times when the Arabs had taken over the land. Alhambra is the must-see number one in Granada but also the streets of both the town and Albaicín give a great look into the beautiful architectural history. I was really fascinated by the city and here is my Granada travel planner where I will share my must-sees and things to do in Granada!
Things to see in Granada
Alhambra
Alhambra is the main sight in Granada. You can't visit Granada without visiting this historical site. But note that you have to buy the tickets BEFORE your travel. If you want to go to the main area of Alhambra called Nasrid Palaces you should buy the tickets 90 days beforehand. I realized it too late but I did get tickets for the Alcazaba and Generalife parts.
Reserve time for your visit to Alhambra. I only visited Alcazaba and Generalife and I spent about 4 hours there. I went in around midday but I'm not sure what's the best time to visit Alhambra. Some areas were more crowded than other parts where I was almost all alone.
What is Alhambra then? It's a beautiful castle that later turned into a fortress and after that to a royal residence. Alhambra consists of three main parts. Generalife is an area full of beautiful gardens, Alcazaba is the ruins and towers of the fortress and Nasrid Palace is the royal residence area.
Albaicín district
Albaicín is a district in Granada that has a Medieval Moorish past. There are beautiful white houses and narrow cobbled streets.  It's worth going just to wander there and get lost in the streets. There are also a couple of viewpoints with a view to Alhambra. I stayed in Albaicín area in an old house and it was great to get into the real vibe of the area. In my Airbnb there also was an awesome terrace on top of the roof which was perfect for watching the sunset and have a glass of wine.
Interesting fact that I learnt from a local was that the old houses in Albaicín and Granada have a small courtyard in the center of the house. These house types are called Carmen.
Bonus tip: If you are staying in Albaicín and you have big luggage, I highly recommend using the buses to get to your accommodation instead of walking. There are big hills and cobbled stones so it isn't the easiest to walk with heavy cases. I tried walking and I don't recommend it, haha!
Cathedral of Granada
Granada is full of churches and for a person who loves architecture, Granada is a great place to visit. Granada Cathedral is one of the main sights to see and it's a beautiful one.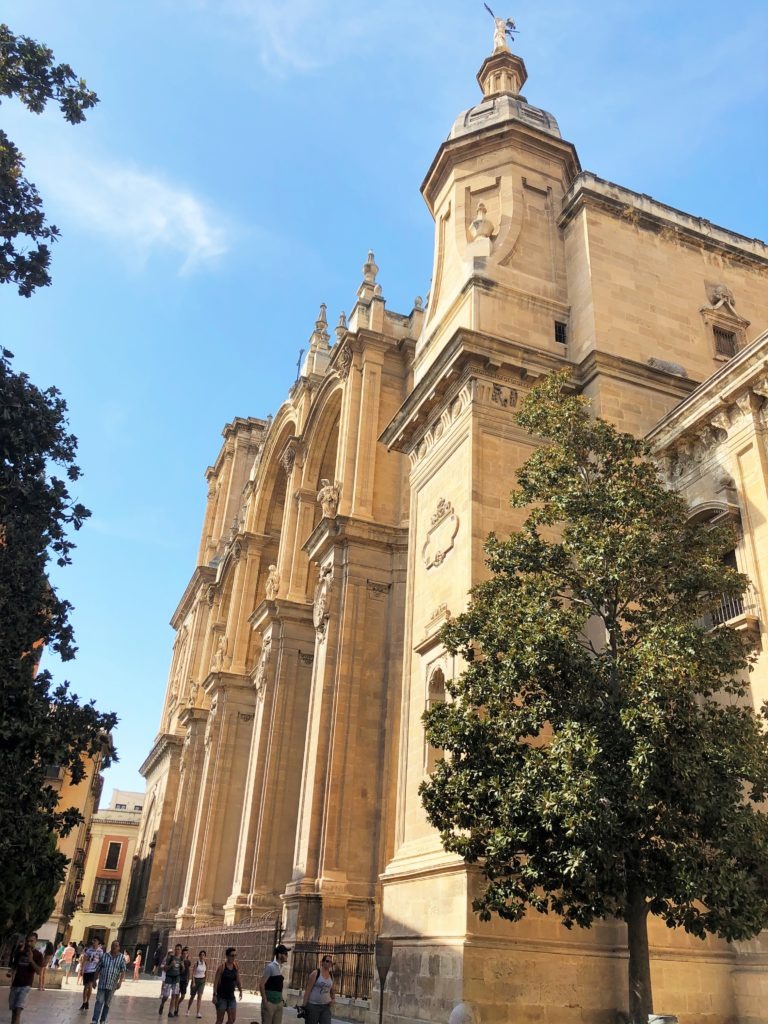 Corral del Carbon
Corral del Carbon is a road in the center of Granada which features the oldest Arab monument in Granada at its end. It's a building with a round courtyard decorated with two-storey pillars. It's a lovely place to visit and in the daytime there's also a museum open inside the building.
Delicious tapas and friendly locals
City of delicious tapas
Tapas is something that I'm craving for in Spain but you cannot find it everywhere. I mean by tapas something small to eat for free when you are having a drink. I know there are people who have different understanding of tapas but for me the real tapas comes along with the drink and you don't have to pay for it.
There are few tapas bars I would like to recommend in Granada: Los Diamantes and La Antigualla tapas bar. Los Diamantes is specialized in seafood and serves absolutely delicious tapas. Go there if seafood and especially deep-fried seafood is your thing. La Antigualla is a very weird medieval themed tapas bar with only few tables and seats. The bartender was really nice and the atmosphere is very chilled and welcoming. But what's more important is that the tapas is one of the tastiest I've had in a long time! Go there and try it!
Locals of Granada
The locals in Granada are very friendly. When I was traveling there with my friend and we were in a bus with our heavy backpacks and suitcases some lady just randomly started talking with us. She gave us some advise when another man from the bus started talking too. He wanted to recommend us the tapas bar he enjoys the most: Los Diamantes!
I have to say that I appreciate a lot when the locals really make the effort of being friendly towards tourists. It leaves a great feeling of the place and I would recommend going to Granada just because of that.
Why choose Granada
Granada is a charming city full of beautiful architecture, delicious food and great locals! Those are the things why I fell in love with Granada and those are the things why I'd go back there.
If you are a city person Granada is a good choice for you. I love city photography and I felt that the narrow streets of the city were just perfect for it. The best time of the year to travel to Granada is definitely summer time when the weather is warm and sunny. Even in August the streets of Granada won't be too crowded!
So go and explore Granada!