Ho, ho, ho, it's Christmas time again! Every country and even every family have their own Christmas traditions which I find very intriguing. I will tell you about how Christmas is traditionally spent in Finland, in the country of Santa Claus and also what my Christmas is like.
First of all, let's clear this out. Santa Claus (or joulupukki as we Finns call him) is from Finland and he lives in the Finnish Lapland in a small town called Korvatunturi. He visits Finnish homes on Christmas Eve, the 24th of December. No, not during the night, he comes to most our homes during the daytime.
Before I go to the details of the most important day of Christmas the 24th of December, I will go through other Christmas related things.
November: Preparing for the dark December
Finns like to decorate their houses with lights which we put on already early November. It's usually nothing big like the American style. For us it's more like a pair of twinkly lights to brighten our garden, patio or balcony. We need that because in December our dose of daylight is only under 6 hours!
November is the time to start preparing for Christmas and what many Finns buy is an Advent calendar. The calendar might have chocolate or then just pictures but for kids there are all sorts of calendars nowadays. For adults I heard there is even a Baileys calendar.
December: Getting ready for Christmas
On December we love to bake gingerbread cookies and "joulutorttu" which is a Finnish Christmas tart made of puffy pastry and plum jam in a star shape. Yum yum!
In addition to baking, Finns are still quite keen on sending Christmas cards. The number of Christmas cards sent has gone down rapidly during this age of internet but many Finns still send them. I send a few every year and I love to make my own Christmas cards.
Christmas Eve: Morning routines
In Finland the most important day of Christmas is the 24th of December and that's a day full of traditions. My day starts by bringing the Christmas tree in and decorating it. This tradition varies in Finnish families and in some families the Christmas tree is brought is already days before Christmas.
After decorating the Christmas tree I go to watch a program called "The Snowman". It's one of the most watched shows in Christmas: around half a million Finns watch it! You have probably heard its famous song: Walking in The Air. Another popular show is Joulupukin kuumalinja ("Santa's hotline") where children can call Santa Claus. The calls usually end with the kids singing a song to Santa.
For lunch we enjoy a big pot of "riisipuuro" which is a porridge made of rice and we eat it with cinnamon and sugar or with berry soup.
Majority of the Finns belong to the Evangelical Lutheran Church but I don't think we are that religious anymore. The tradition in the old times was to go to the Christmas church but nowadays not too many of us do that. Before Christmas there are some events in churches like singing Christmas songs and those remain quite popular.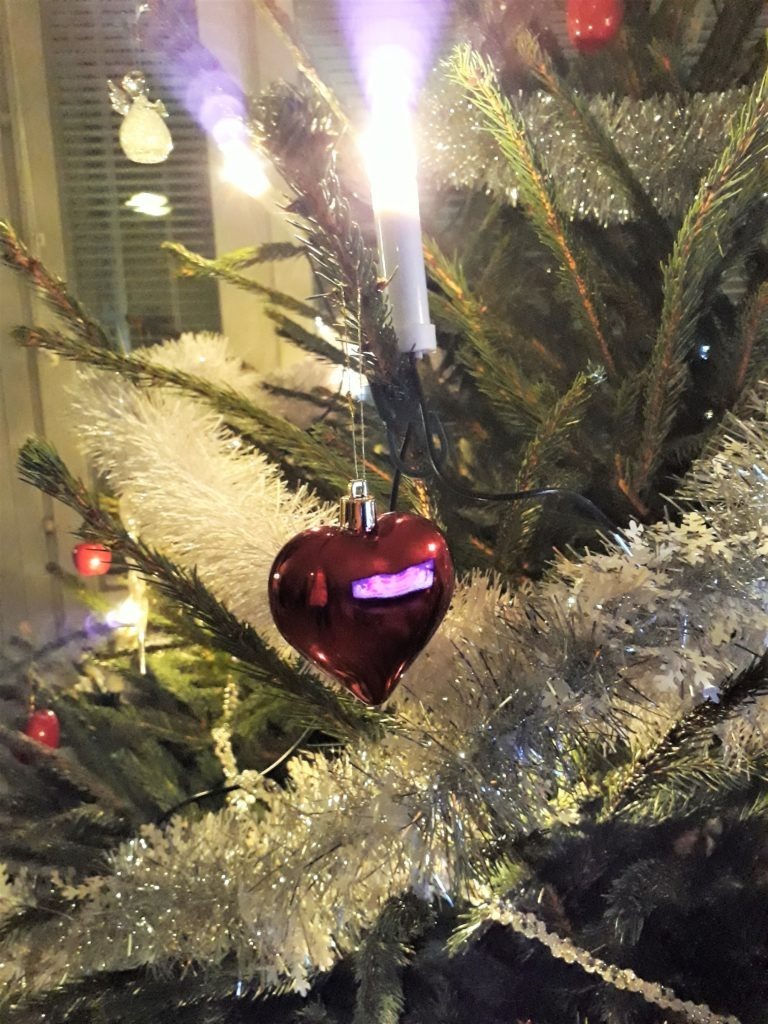 Christmas Eve: Evening traditions
There's one great but very different tradition on the 24th that nearly every family does. That is visiting a cemetery and bringing candles to our passed relatives. It's quite an amazing sight to visit the cemeteries on Christmas Eve when there are thousands upon thousands of candles twinkling in the dark. That's something definitely worth seeing!
Sauna belongs to every celebration in Finland and it is part of our Christmas tradition too. If I find the time, I always try to go to the Christmas sauna which we call "joulusauna". The idea of Christmas sauna is related to purity and to become thoroughly clean before the festivities begin later in the day. You can also have candles to create a peaceful setting and use oils to clean your body in the sauna if you like.
My traditional Christmas afternoon and evening is spent at my granny's house with my family and relatives. We gather there to eat the Christmas meal which is always amazingly delicious and of course made by my granny. For many, it includes having Christmas ham, casseroles, salmon and other fish. I'm so happy Christmas is soon here, yum yum!
When my cousins were little we had Santa Claus visiting us every Christmas. He always came after dinner and gave the presents. Now when we are all older, Santa's elves deliver the gifts the previous day and just share the presents after eating, haha. 😉
If you are traveling to Finland during Christmas time, be prepared for empty cities because most people travel to see their relatives in the countryside and also most of the shops and restaurants will be closed from 24th afternoon until Boxing Day the 26th. In Southern Finland there's a chance that we don't have snow so if you are looking for white Christmas, your best bet is to go to Lapland instead.
Merry Christmas to you all!
What's the weirdest Christmas tradition in your country?